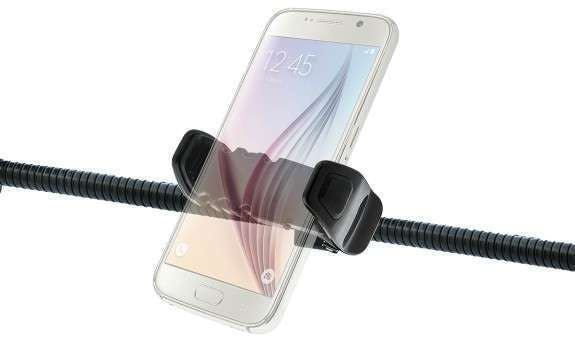 There are things we want and things we need.
There are items we keep with us to make our work easier and to make our days more enjoyable.
There are tools that make us productive and tools that help make life more enjoyable.
During 2016, we saw plenty of each in our Gear column. Here's some of the items that caught our attention in the year that ends this weekend.
%{[ data-embed-type="image" data-embed-id="60257e26da016482238e92db" data-embed-element="span" data-embed-alt="Winter weather is making its presence known throughout much of the U.S. and staying on top of highway conditions is essential. Many drivers rely on their CB radio to keep them up to date on any trouble spots and Uniden&rsquo;s Bearcat 980 SSB CB radio has several features that can help do just that. What sets it apart are several additions that are normally seen in much bigger and more expensive models. Most notable are a new noise-cancelling microphone to clear out highway and other background noise, seven choices of backlighting, large display panel and a feature that allows instant switching to emergency channel 9. This radio got a four and half stars rating from Amazon shoppers, and 85 percent gave it four or five stars. Uniden also offers the Pro401 HH, a professional level handheld CB with 40 channels. It has four watts of power, rechargeable batteries, auto noise cancel and high/low power selection. Accessories include belt clip and strap, flexible antenna and DC adapter. Both are available at travel plazas and online." data-embed-src="https://img.truckersnews.com/files/base/randallreilly/all/image/2016/12/tn.ihz-2.png?auto=format%2Ccompress&fit=max&w=1280" data-embed-caption="Winter weather is making its presence known throughout much of the U.S. and staying on top of highway conditions is essential.<br> Many drivers rely on their CB radio to keep them up to date on any trouble spots and Uniden's Bearcat 980 SSB CB radio has several features that can help do just that. What sets it apart are several additions that are normally seen in much bigger and more expensive models. Most notable are a new noise-cancelling microphone to clear out highway and other background noise, seven choices of backlighting, large display panel and a feature that allows instant switching to emergency channel 9. This radio got a four and half stars rating from Amazon shoppers, and 85 percent gave it four or five stars. Uniden also offers the Pro401 HH, a professional level handheld CB with 40 channels. It has four watts of power, rechargeable batteries, auto noise cancel and high/low power selection. Accessories include belt clip and strap, flexible antenna and DC adapter. Both are available at travel plazas and online." ]}%
%{[ data-embed-type="image" data-embed-id="60257e26da016482238e92dd" data-embed-element="span" data-embed-alt="The last thing you need on the road is to be left in the dark, and the AYL TF89 &ldquo;tactical&rdquo; flashlight can make sure that doesn&rsquo;t happen. Aside from being exceptionally bright, the AYL TF89 has five modes (high, medium, low beam, strobe and an SOS function) zoom capability, and a bright CREE LED the manufacturer says can last 100,000+ hours. With a metallic silver anodized aluminum alloy body, it&rsquo;s powered by three AAA batteries and a rechargeable battery that is included. Price: $18.99 online." data-embed-src="https://img.truckersnews.com/files/base/randallreilly/all/image/2016/12/tn.ihz-1.png?auto=format%2Ccompress&fit=max&w=1280" data-embed-caption="The last thing you need on the road is to be left in the dark, and the AYL TF89 "tactical" flashlight can make sure that doesn't happen.<br> Aside from being exceptionally bright, the AYL TF89 has five modes (high, medium, low beam, strobe and an SOS function) zoom capability, and a bright CREE LED the manufacturer says can last 100,000+ hours. With a metallic silver anodized aluminum alloy body, it's powered by three AAA batteries and a rechargeable battery that is included. Price: $18.99 online." ]}%
%{[ data-embed-type="image" data-embed-id="60257e26da016482238e92df" data-embed-element="span" data-embed-alt="A good mobile headset ought to have great sound, comfortable fit so you can wear it for extended periods of time, ease of operations because you ave more important things to worry about when driving. The LG TONE Ultra premium wireless stereo headset delivers on all counts. The JBL Signature Sound and Quad-Layer Speaker Technology provide high-level acoustics controlled by fluid volume and music controls. Silicone foam ear gels block unwanted noise. Available at most travel stops." data-embed-src="https://img.truckersnews.com/files/base/randallreilly/all/image/2016/12/tn.ihz-4.png?auto=format%2Ccompress&fit=max&w=1280" data-embed-caption="A good mobile headset ought to have great sound,<br>comfortable fit so you can wear it for extended periods of time, ease of operations because you ave more important things to worry about when driving. The LG TONE Ultra premium wireless stereo headset delivers on all counts. The JBL Signature Sound and Quad-Layer Speaker Technology provide high-level acoustics controlled by fluid volume and music controls. Silicone foam ear gels block unwanted noise. Available at most travel stops." ]}%
%{[ data-embed-type="image" data-embed-id="60257e26da016482238e92e0" data-embed-element="span" data-embed-alt="Being on the road as much as you are means having the stuff you need organized, accessible and transportable. It also means having your important devices &mdash; smartphone, tablet, laptop &mdash; charged and ready to support your work. This backpack from Dewalt &mdash; the well-known toolmaker &mdash; does both. It has 23 pockets for your gear, gadgets, snacks, tools, tchotchke and paperwork. It also has a spot for a Dewalt 20 volt Max lithium ion battery and a USB charging dock. (Like the TV ads for Christmas toys say, &ldquo;Battery not included.) You can charge two devices at the same time with a maximum output of two amps. Available online for $66.83." data-embed-src="https://img.truckersnews.com/files/base/randallreilly/all/image/2016/12/tn.ihz-8.png?auto=format%2Ccompress&fit=max&w=1280" data-embed-caption="Being on the road as much as you are means having the stuff you need organized, accessible and transportable. It also means having your important devices — smartphone, tablet, laptop — charged and ready to support your work.<br> This backpack from Dewalt — the well-known toolmaker — does both. It has 23 pockets for your gear, gadgets, snacks, tools, tchotchke and paperwork. It also has a spot for a Dewalt 20 volt Max lithium ion battery and a USB charging dock. (Like the TV ads for Christmas toys say, "Battery not included.) You can charge two devices at the same time with a maximum output of two amps. Available online for $66.83." ]}%
%{[ data-embed-type="image" data-embed-id="60257e26da016482238e92e1" data-embed-element="span" data-embed-alt="Rand McNally&rsquo;s TND Tablet 70 was created with truck drivers in mind. It has a 7&rdquo; display, GPS and built-in dash cam. Features include: Rand McNally truck navigation Digital Version of Rand McNally Motor Carriers&rsquo; Road Atlas,7&Prime; IPS LCD Capacitive Touchscreen with 1024&times;600, TripMaker downloadable trips and E-log support, Dash camera on board with 2MP (Rear), 0.3MP (forward facing selfie camera), Magnetic mount with GPS boost and input for backup/blind spot camera, Wi-Fi only (802.11a/b/g) (no cellular) and Android 4.4.2 (Kit Kat), 16GB Memory and Micro SD slot. Available at travel centers." data-embed-src="https://img.truckersnews.com/files/base/randallreilly/all/image/2016/12/tn.ihz-5.png?auto=format%2Ccompress&fit=max&w=1280" data-embed-caption="Rand McNally's TND Tablet 70 was created with truck drivers in mind.<br> It has a 7" display, GPS and built-in dash cam. Features include: Rand McNally truck navigation Digital Version of Rand McNally Motor Carriers' Road Atlas,7″ IPS LCD Capacitive Touchscreen with 1024×600, TripMaker downloadable trips and E-log support, Dash camera on board with 2MP (Rear), 0.3MP (forward facing selfie camera), Magnetic mount with GPS boost and input for backup/blind spot camera, Wi-Fi only (802.11a/b/g) (no cellular) and Android 4.4.2 (Kit Kat), 16GB Memory and Micro SD slot. Available at travel centers." ]}%
%{[ data-embed-type="image" data-embed-id="60257e26da016482238e92e3" data-embed-element="span" data-embed-alt="Sometimes, after a long day, rewinding straps once you have unloaded can be the kind of tedious, time consuming and tiresome task you can easily live without. A Canadian company may have some help in the form of the Monster Strap Winder. The manufacturer says it&rsquo;s product can rewind a typical 30-foot-long commercial strap in about six and a half seconds. Further, it can perform 1,500 rewinds before needing to recharge its high-capacity lithium ion battery. Price: $450 direct from the manufacturer." data-embed-src="https://img.truckersnews.com/files/base/randallreilly/all/image/2016/12/tn.ihz-16.png?auto=format%2Ccompress&fit=max&w=1280" data-embed-caption="Sometimes, after a long day, rewinding straps once you have unloaded can be the kind of tedious, time consuming and tiresome task you can easily live without.<br> A Canadian company may have some help in the form of the Monster Strap Winder. The manufacturer says it's product can rewind a typical 30-foot-long commercial strap in about six and a half seconds. Further, it can perform 1,500 rewinds before needing to recharge its high-capacity lithium ion battery. Price: $450 direct from the manufacturer." ]}%
%{[ data-embed-type="image" data-embed-id="60257e26da016482238e92e5" data-embed-element="span" data-embed-alt="The MyKronoz ZeRound smartwatch provides access to a variety of digital services right on your wrist. The ZeRound circular color touchscreen delivers: incoming calls, text messages, emails, social media. But, that&rsquo;s just the beginning. ZeRound also: tracks your daily steps, counts your calories, keeps track of your time sleeping and the quality of your sleep, plays music, delivers reminders and alarms, helps you keep track of your goals, functions as a remote for your camera, supports Siri and Google Now. Compatible with iOS 8+ and select Android 4.3+ devices that support Bluetooth BLE, ZeRound comes with a free mobile app that lets you pick and choose the information you want to receive on your smartwatch. Available online for $99.99 and at travel centers." data-embed-src="https://img.truckersnews.com/files/base/randallreilly/all/image/2016/12/tn.ihz-6.png?auto=format%2Ccompress&fit=max&w=1280" data-embed-caption="The MyKronoz ZeRound smartwatch provides access to a variety of digital services right on your wrist.<br> The ZeRound circular color touchscreen delivers: incoming calls, text messages, emails, social media. But, that's just the beginning. ZeRound also: tracks your daily steps, counts your calories, keeps track of your time sleeping and the quality of your sleep, plays music, delivers reminders and alarms, helps you keep track of your goals, functions as a remote for your camera, supports Siri and Google Now. Compatible with iOS 8+ and select Android 4.3+ devices that support Bluetooth BLE, ZeRound comes with a free mobile app that lets you pick and choose the information you want to receive on your smartwatch. Available online for $99.99 and at travel centers." ]}%
%{[ data-embed-type="image" data-embed-id="60257e26da016482238e92e8" data-embed-element="span" data-embed-alt="Cops stopping truckers often say a messy cab may often be what suggests to them a full inspection is in order. But, even the biggest, most spacious truck cab could do with a bit of organization. Fortunately there are some solutions, none of which requires hiring an expert, watching a video or even reading a book. Duluth Trading Company has several cab organizers, two of which double as briefcases. None costs more than $70 and all can help you keep paperwork, electronics and even your coffee or water bottle handy. And, all can be ordered online." data-embed-src="https://img.truckersnews.com/files/base/randallreilly/all/image/2016/12/tn.ihz-10.png?auto=format%2Ccompress&fit=max&w=1280" data-embed-caption="Cops stopping truckers often say a messy cab may often be what suggests to them a full inspection is in order.<br> But, even the biggest, most spacious truck cab could do with a bit of organization. Fortunately there are some solutions, none of which requires hiring an expert, watching a video or even reading a book. Duluth Trading Company has several cab organizers, two of which double as briefcases. None costs more than $70 and all can help you keep paperwork, electronics and even your coffee or water bottle handy. And, all can be ordered online." ]}%
%{[ data-embed-type="image" data-embed-id="60257e26da016482238e92e9" data-embed-element="span" data-embed-alt="Even the largest, most spacious truck cab can get crowded as you introduce more and more items that you want to have within easy reach. Trucker Tough&rsquo;s in-vehicle gear rack system uses a flexible 18-inch bar for mounting mobile devices. It attaches to the dashboard or windshield with high-powered suction cups. A cell phone mount and GPS mount are included in the starter pack; numerous accessories are available. The rack and all the accessories are available at travel centers, big box stores and online." data-embed-src="https://img.truckersnews.com/files/base/randallreilly/all/image/2016/12/tn.ihz-7.png?auto=format%2Ccompress&fit=max&w=1280" data-embed-caption="Even the largest, most spacious truck cab can get crowded as you introduce more and more items that you want to have within easy reach.<br> Trucker Tough's in-vehicle gear rack system uses a flexible 18-inch bar for mounting mobile devices. It attaches to the dashboard or windshield with high-powered suction cups. A cell phone mount and GPS mount are included in the starter pack; numerous accessories are available. The rack and all the accessories are available at travel centers, big box stores and online." ]}%
%{[ data-embed-type="image" data-embed-id="60257e26da016482238e92ed" data-embed-element="span" data-embed-alt="Two things you always need when on the road: Keeping your smartphone charged, knowing where your truck is parked. There are more things on your trucker&rsquo;s &ldquo;to do&rdquo; list, but one device can handle both of the items above. The German makers of Zus (pronounced like the Greek god Zeus) claim it is an &ldquo;ultra-fast&rdquo; charger that refills your devices&rsquo; batteries at twice the normal speed. In addition, it works as a homing device to help you find your rig when you come out of a truck stop. Zus has a free app you can add to your smartphone. Open it and Zus actually points you in the right direction. Zus plugs into your truck&rsquo;s lighter socket, and works with our without the ignition turned on. Order online for $29.99" data-embed-src="https://img.truckersnews.com/files/base/randallreilly/all/image/2016/12/tn.ihz-11.png?auto=format%2Ccompress&fit=max&w=1280" data-embed-caption="Two things you always need when on the road: Keeping your smartphone charged, knowing where your truck is parked.<br>There are more things on your trucker's "to do" list, but one device can handle both of the items above. The German makers of Zus (pronounced like the Greek god Zeus) claim it is an "ultra-fast" charger that refills your devices' batteries at twice the normal speed. In addition, it works as a homing device to help you find your rig when you come out of a truck stop. Zus has a free app you can add to your smartphone. Open it and Zus actually points you in the right direction. Zus plugs into your truck's lighter socket, and works with our without the ignition turned on. Order online for $29.99" ]}%
%{[ data-embed-type="image" data-embed-id="60257e26da016482238e92ee" data-embed-element="span" data-embed-alt="Normally, charging your smartphone, tablet or other device ought to be as simple as using it. But, on the road (and even at home!) things aren&rsquo;t always normal. There are often surges or other disruptions in a home&rsquo;s or business&rsquo; electrical system, and these can sometimes cause problems with your smartphone or other device. Even the power supply in your truck or car can create issues. The ToughTested Pro+ Safe-Charge Cable can provide defense against such power problems. The Safe-Charge Cable has a circuit breaker that automatically shuts off power to your smartphone or tablet when potentially damaging voltage or electrical current is detected. And, it does it quickly: in less than one-tenth of a second, according to the company. When the problem passes, the device resets itself and you&rsquo;re ready to charge your device again safely. The Safe-Charge Cable is 6 feet long and is chemical/heat and abrasion resistant. Available online and in travel centers." data-embed-src="https://img.truckersnews.com/files/base/randallreilly/all/image/2016/12/tn.ihz-9.png?auto=format%2Ccompress&fit=max&w=1280" data-embed-caption="Normally, charging your smartphone, tablet or other device ought to be as simple as using it.<br> But, on the road (and even at home!) things aren't always normal. There are often surges or other disruptions in a home's or business' electrical system, and these can sometimes cause problems with your smartphone or other device. Even the power supply in your truck or car can create issues. The ToughTested Pro+ Safe-Charge Cable can provide defense against such power problems. The Safe-Charge Cable has a circuit breaker that automatically shuts off power to your smartphone or tablet when potentially damaging voltage or electrical current is detected. And, it does it quickly: in less than one-tenth of a second, according to the company. When the problem passes, the device resets itself and you're ready to charge your device again safely. The Safe-Charge Cable is 6 feet long and is chemical/heat and abrasion resistant. Available online and in travel centers." ]}%
%{[ data-embed-type="image" data-embed-id="60257e26da016482238e92ef" data-embed-element="span" data-embed-alt="What you do &mdash; driving all day, loading and unloading, tarping up &mdash; is dirty work. At the risk of sounding like a commercial, when you do get a chance to shower, you need a soap that works as hard as you do. Tactical Soap on a Rope from is engineered with paracord and sturdy mesh to eliminate the slipperiness of traditional bar soap. These oversized brick-shaped soaps have manly scents, steel-cut grains for maximum grip-ability and are tested by active military personnel." data-embed-src="https://img.truckersnews.com/files/base/randallreilly/all/image/2016/12/tn.ihz-12.png?auto=format%2Ccompress&fit=max&w=1280" data-embed-caption="What you do — driving all day, loading and unloading, tarping up — is dirty work.<br> At the risk of sounding like a commercial, when you do get a chance to shower, you need a soap that works as hard as you do. Tactical Soap on a Rope from is engineered with paracord and sturdy mesh to eliminate the slipperiness of traditional bar soap. These oversized brick-shaped soaps have manly scents, steel-cut grains for maximum grip-ability and are tested by active military personnel." ]}%
%{[ data-embed-type="image" data-embed-id="60257e26da016482238e92f0" data-embed-element="span" data-embed-alt="Getting from point &ldquo;A&rdquo; to point &ldquo;B&rdquo; and &ldquo;C&rdquo; and &ldquo;D&rdquo; and beyond is what you do for a living. But, even as good as you are, every driver needs a little help every now and then. The new Garmin d&emacr;zl 770LMTHD and d&emacr;zl 570LMT truck navigators can provide that assistance. DEZL570LMTBoth feature a 7&rdquo; or 5&rdquo; glass display, lifetime North American maps, free lifetime traffic avoidance, custom routing for truck size and weight and road warnings (like weight limits and bridge heights). They also have a Truck &amp; Trailer Services Directory and points of interest highly-rated by truckers, including hotels, restaurants and parking. Bluetooth technology lets you call hands-free; d&emacr;zl 770LMTHD also works with a Bluetooth-headset, which is sold separately. Spoken Garmin Real Directions uses landmarks and traffic lights to help chart your travels. Easy Route Shaping lets you change your route to include preferred roads or cities, just by touching the screen. The d&emacr;zl 770LMTHD and d&emacr;zl 570LMT are compatible with the Garmin BC 30 backup camera, also sold separately." data-embed-src="https://img.truckersnews.com/files/base/randallreilly/all/image/2016/12/tn.ihz-13.png?auto=format%2Ccompress&fit=max&w=1280" data-embed-caption="Getting from point "A" to point "B" and "C" and "D" and beyond is what you do for a living. But, even as good as you are, every driver needs a little help every now and then.<br> The new Garmin d&emacr;zl 770LMTHD and d&emacr;zl 570LMT truck navigators can provide that assistance. DEZL570LMTBoth feature a 7" or 5" glass display, lifetime North American maps, free lifetime traffic avoidance, custom routing for truck size and weight and road warnings (like weight limits and bridge heights). They also have a Truck & Trailer Services Directory and points of interest highly-rated by truckers, including hotels, restaurants and parking. Bluetooth technology lets you call hands-free; d&emacr;zl 770LMTHD also works with a Bluetooth-headset, which is sold separately. Spoken Garmin Real Directions uses landmarks and traffic lights to help chart your travels. Easy Route Shaping lets you change your route to include preferred roads or cities, just by touching the screen. The d&emacr;zl 770LMTHD and d&emacr;zl 570LMT are compatible with the Garmin BC 30 backup camera, also sold separately." ]}%
%{[ data-embed-type="image" data-embed-id="60257e26da016482238e92f2" data-embed-element="span" data-embed-alt="Admit it, there have been times when you&rsquo;ve been on the road a couple days longer than the effects of your last shower, and you HAD to get rid of that grungy feeling. The trucker solution: An entire package &mdash; or two &mdash; of baby wipes. Now there&rsquo;s a better way: Epic Wipes, which truly live up to their name. Created by a soldier fighting in Afghanistan, Epic Wipes are, according to the company, 16 times larger than normal wet wipes. But, not only are they large enough to do the job, they are made of bamboo so they are biodegradable. What do folks think of Epic Wipes? The Kickstarter campaign for them crushed its $10,000 goal by almost $20,000." data-embed-src="https://img.truckersnews.com/files/base/randallreilly/all/image/2016/12/tn.ihz-15.png?auto=format%2Ccompress&fit=max&w=1280" data-embed-caption="Admit it, there have been times when you've been on the road a couple days longer than the effects of your last shower, and you HAD to get rid of that grungy feeling. The trucker solution: An entire package — or two — of baby wipes.<br> Now there's a better way: Epic Wipes, which truly live up to their name. Created by a soldier fighting in Afghanistan, Epic Wipes are, according to the company, 16 times larger than normal wet wipes. But, not only are they large enough to do the job, they are made of bamboo so they are biodegradable. What do folks think of Epic Wipes? The Kickstarter campaign for them crushed its $10,000 goal by almost $20,000." ]}%
%{[ data-embed-type="image" data-embed-id="60257e26da016482238e92f3" data-embed-element="span" data-embed-alt="With limited space in the cab of your truck, you need equipment that&rsquo;ll multi-task. Enter the Skyworth 19-inch LED TV/DVD Combo. This 12-volt, HD-compatible TV fits nicely in your sleeper, and includes a built-in DVD. The added benefit is that you can also use it as a computer monitor. The slim design and LED backlight means it&rsquo;s a good fit even for the tightest of sleepers." data-embed-src="https://img.truckersnews.com/files/base/randallreilly/all/image/2016/12/tn.ihz.png?auto=format%2Ccompress&fit=max&w=1280" data-embed-caption="With limited space in the cab of your truck, you need equipment that'll multi-task.<br> Enter the Skyworth 19-inch LED TV/DVD Combo. This 12-volt, HD-compatible TV fits nicely in your sleeper, and includes a built-in DVD. The added benefit is that you can also use it as a computer monitor. The slim design and LED backlight means it's a good fit even for the tightest of sleepers." ]}%
%{[ data-embed-type="image" data-embed-id="60257e26da016482238e92f5" data-embed-element="span" data-embed-alt="OK, so all you can have is one tool, what would it be? Saw? Pliers? Flathead screwdriver? Knife? Can opener? How about all of the above? The Powerplay by SOG includes all of those and more. Here&rsquo;s the full toolbox on this one item: 1/4&Prime; Hex Bit Driver, 3-Sided File, Awl, Bolt Grip Channel, Bottle Opener, Can Opener, Full Serrated Blade, Jewelry Driver, Large Flat Screwdriver, Medium Flat Screwdriver, Needle Nose Pliers, Philips Screwdriver, Ruler, Small Flat Screwdriver, Straight Edge Blade, Wire Crimper, Wire Cutter, Wood Saw. Price: $77 online" data-embed-src="https://img.truckersnews.com/files/base/randallreilly/all/image/2016/12/tn.ihz-17.png?auto=format%2Ccompress&fit=max&w=1280" data-embed-caption="OK, so all you can have is one tool, what would it be? Saw? Pliers? Flathead screwdriver? Knife? Can opener?<br> How about all of the above? The Powerplay by SOG includes all of those and more. Here's the full toolbox on this one item: 1/4″ Hex Bit Driver, 3-Sided File, Awl, Bolt Grip Channel, Bottle Opener, Can Opener, Full Serrated Blade, Jewelry Driver, Large Flat Screwdriver, Medium Flat Screwdriver, Needle Nose Pliers, Philips Screwdriver, Ruler, Small Flat Screwdriver, Straight Edge Blade, Wire Crimper, Wire Cutter, Wood Saw. Price: $77 online" ]}%
%{[ data-embed-type="image" data-embed-id="60257e26da016482238e92f9" data-embed-element="span" data-embed-alt="It&rsquo;s a fact of life on the road, sometimes you&rsquo;re not within reach of a place at which you can recharge your phone, tablet or other device. That&rsquo;s when you need to have power of your own. The Solar Dual USB 15,000mAh battery pack from ToughTested provides that power. But, what you may ask, provides the power to it? The sun, of course. The charger has a solar panel on it so it can recharge itself just by sitting in sunlight. Then it&rsquo;s good to go, providing up to 10 charges for the typical smartphone. This battery pack has two USB ports so you can replenish two devices at once, and it has built in InstaSense technology so it knows how much juice each one should get safely. And, just in case, it includes a micro USB charging cable and car charger. Price: $100" data-embed-src="https://img.truckersnews.com/files/base/randallreilly/all/image/2016/12/tn.ihz-20.png?auto=format%2Ccompress&fit=max&w=1280" data-embed-caption="It's a fact of life on the road, sometimes you're not within reach of a place at which you can recharge your phone, tablet or other device.<br> That's when you need to have power of your own. The Solar Dual USB 15,000mAh battery pack from ToughTested provides that power. But, what you may ask, provides the power to it? The sun, of course. The charger has a solar panel on it so it can recharge itself just by sitting in sunlight. Then it's good to go, providing up to 10 charges for the typical smartphone. This battery pack has two USB ports so you can replenish two devices at once, and it has built in InstaSense technology so it knows how much juice each one should get safely. And, just in case, it includes a micro USB charging cable and car charger. Price: $100" ]}%
%{[ data-embed-type="image" data-embed-id="60257e26da016482238e92fa" data-embed-element="span" data-embed-alt="There was a time that Mason jars were strictly for canning, or as some say, putting by, food. Today, they are used for just about anything: drinking glasses, keeping leftovers fresh in the kitchen or storing small nuts, bolts or nails in the garage or workshop. And, it may be illegal to make a country music video without them. Plus, they&rsquo;re inexpensive, durable, heat-resistant, and recyclable. But, using a Mason jar on the go &mdash; in your truck, for example &mdash; can be a bit tricky. The Cuppow solves that problem. This BPA-free plastic lid turns any Mason jar into a travel mug. Designed for both large and regular mouth Mason or other canning jars, the Cuppow is dishwasher-safe and fits underneath the screw-on ring that comes with a canning jar. Price: 3 for $23.85" data-embed-src="https://img.truckersnews.com/files/base/randallreilly/all/image/2016/12/tn.ihz-18.png?auto=format%2Ccompress&fit=max&w=1280" data-embed-caption="There was a time that Mason jars were strictly for canning, or as some say, putting by, food.<br> Today, they are used for just about anything: drinking glasses, keeping leftovers fresh in the kitchen or storing small nuts, bolts or nails in the garage or workshop. And, it may be illegal to make a country music video without them. Plus, they're inexpensive, durable, heat-resistant, and recyclable. But, using a Mason jar on the go — in your truck, for example — can be a bit tricky. The Cuppow solves that problem. This BPA-free plastic lid turns any Mason jar into a travel mug. Designed for both large and regular mouth Mason or other canning jars, the Cuppow is dishwasher-safe and fits underneath the screw-on ring that comes with a canning jar. Price: 3 for $23.85" ]}%
%{[ data-embed-type="image" data-embed-id="60257e26da016482238e92fb" data-embed-element="span" data-embed-alt="Palomar&rsquo;s SL41 customized microphone is wired for 4-pin CB radios and is engineered to cancel noise without sacrificing sound quality. The microphone features active-circuit noise-canceling technology, a 16-inch coiled cable that stretches to 9 feet, a two-year battery life provided by a single AAA battery, an industrial-grade push-to-talk switch and a dual-mount machined-aluminum button and hanger. The heavy-duty microphone&rsquo;s classic rugged design is built to resist impact. Costs $59.99 from Palomar Electronics." data-embed-src="https://img.truckersnews.com/files/base/randallreilly/all/image/2016/12/tn.palomar-mic-1.png?auto=format%2Ccompress&fit=max&w=1280" data-embed-caption="Palomar's SL41 customized microphone is wired for 4-pin CB radios and is engineered to cancel noise without sacrificing sound quality.<br> The microphone features active-circuit noise-canceling technology, a 16-inch coiled cable that stretches to 9 feet, a two-year battery life provided by a single AAA battery, an industrial-grade push-to-talk switch and a dual-mount machined-aluminum button and hanger. The heavy-duty microphone's classic rugged design is built to resist impact. Costs $59.99 from Palomar Electronics." ]}%