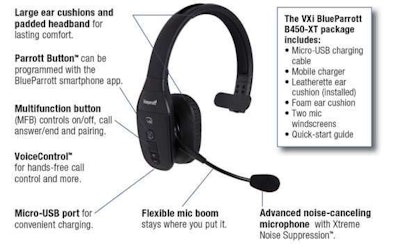 Being able to communicate with your dispatch, your driver manager, the folks at your destination and the family at home is not just a nice thing. It's critically important so the professional trucker needs to have the right tools for that job.
The BlueParrott B450-XT headset is such a tool. It provides excellent sound quality, delivers 82% noise cancellation, hands-free operation and long battery life. And it does all that while keeping the wearer comfortable. 
The B450-XT uses HD Voice and a noise-canceling microphone to eliminate background noise. That means you can hear those calling you and they'll hear you loud and clear.
BlueParrott's B450-XT also:
has Bluetooth range of 300 feet

provides up to 24 hours of talk time on a charge

gives you some 500 hours of standby time 

lets you pair it with two devices at the same time

weighs just 5.22 ounces making it easy to wear all day  
And, when the workday is done and you are relaxing in your sleeper berth, the B450-XT delivers hi-fi stereo sound for listening to music or streaming a movie. 
As with other of the company's headsets, the B450-XT has the Parrott Button, which allows you to customize operations such as mute, speed dial, music control from the headset. 
The B450-XT is available at travel centers and online.
For more ways to improve your driving day, check out the latest edition of the Truckers News and Overdrive Truckers' Gear Guide from the RoadPro Family of Brands.