Remember the bad old days of original cellular phones when the phones were the size of your shoe and there were vast service deserts as you drove across the country?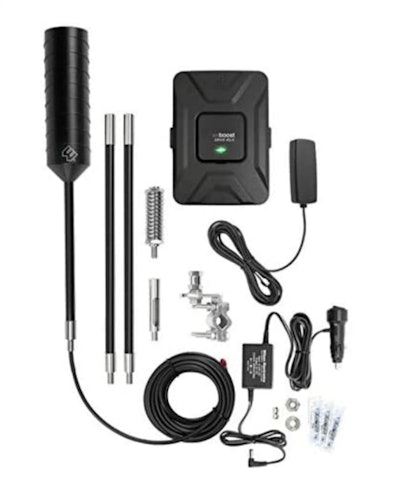 Fortunately, today's smartphones are smaller and those dead zones are few and far between, but there are still times and places where the service bars on your smartphone shrink and sometimes disappear. But, as a professional driver who must stay connected every mile of every drive, you need assurance you can make a call or receive one no matter what cell coverage is like.
Fortunately, weBoost lives up to its name with its Drive 4G-X OTR cellular signal booster designed for over-the-road truck drivers.
The Drive 4G-X OTR enhances all available network speeds for all major US carriers including Verizon, T Mobile, Sprint, ATT and U.S. Cellular. It boosts existing signal strength with 50 dB system gain, the most allowed by federal regulations. 
Installed in your truck, the Drive 4G-X OTR enables drivers and passengers to experience fewer dropped calls, better voice quality, faster data speeds, increased hotspot capability, and improved audio and video streaming. 
The Drive 4G-X OTR works by reaching out to the cell tower to access voice and data signals. Once receiving the outside signal, the Drive 4G-X OTR amplifies the signal and sends it to the inside antenna. The inside antenna then broadcasts the boosted signal to devices inside the vehicle.
Its three-way mount works in any truck.
Commonly paired with the Drive Reach, Drive 4G-X OTR and Drive Sleek OTR products, the 17-inch 4G-OTR Antenna Truck Edition kit comes with parts to accommodate multiple installation options. Included in the kit are 2 mast extensions (13¼ x 5/8), 3-way antenna mount, side exit adapter, antenna spring, cable adapter, and thread lock packets.
Available at major travel centers, the Drive 4G-X OTR is 5G ready.