We have to admit, we like Duke Cannon's style. The maker of a variety of men's grooming products is unabashedly macho, but at the same time, ever so slightly cheeky.
Take, for example, the company's description of its High Viscosity THICK Body Wash. It says, "Fact: Teenage body washes are weak, watered down, and smell like Friday night at fraternity row. Simply put, they don't get the job done.  Hard-working men require a shower of substance to accomplish a full day's work."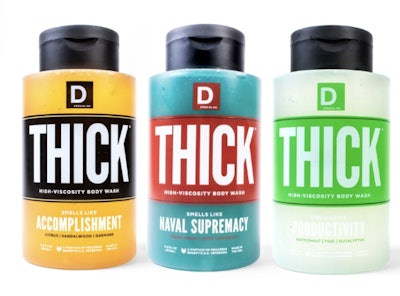 Duke Cannon, it's plain to see, knows truckers.
Each different THICK has its own blend of scents, to give you one you'll most enjoy during your next truck stop shower. They all have plant-based thickeners for extra lather, are mineral-enriched to naturally exfoliate, and contain aloe vera to hydrate and protect.
They're also, "paraben, phthalate, and cruelty-free," according to the company, which wryly adds, "Never tested on animals. Just bad interns."
Scents include:
Accomplishment (a blend of oakmoss, sandalwood, and fresh citrus)

Naval Supremacy (smells of

freshwater, open-air, and bergamot)

Productivity (smells of

eucalyptus, peppermint, and woodsy pine)
Size: 17.5 oz. Price: $7.