Be honest, while you may be a veteran driver with more than a million accident-free miles under your seat belt, you still can use a bit of an assist every now and then. It may be when you're looking for a parking space with mere minutes left on your ELD or you're driving a new route on unfamiliar roads, or when you wish to check the weather up ahead.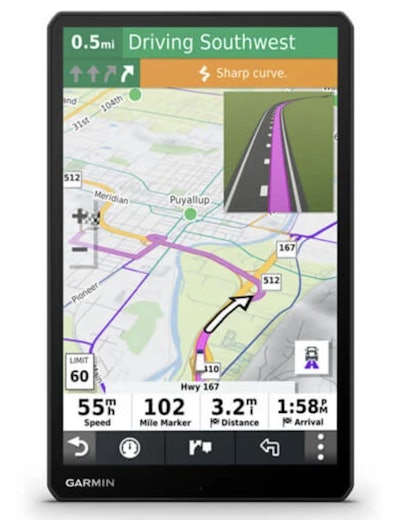 Longtime navigation device maker Garmin has crafted a line of trucking-specific navigation devices that can not just help get you where you're going but get there safely and on time. Garmin's dēzl OTR700/800/1000 GPS truck navigators do that and more. All provide bigger screens and are loaded with the sort of features today's truckers need.
The dēzl OTR700/800/1000 all have easy-to-read HD touchscreen, custom truck routing based on the size and weight of your rig, and industry-best load-to-dock guidance – allowing drivers to see specific loading zones and storage lots to bypass common public entrances when approaching their destination. Talk about a time savwe.
These oversized navigators allow a driver to input the size and weight of their truck and receive custom truck routing that delivers road warnings to see alerts for upcoming bridge heights, weight limits, sharp curves, steep grades, and more. The dēzl OTR700/800/1000 also have preloaded directories of truck and trailer services, letting drivers find preferred truck stops by brand or amenities. The units' truck-friendly parking information and timely break planning notifications help truckers make the most of each stop as well as every hour on the road.
The dēzl OTR700/800/1000 come with several mounting options, including a powered magnetic mount with a heavy-duty suction cup, a screw-down mount, and a 1-inch ball adapter with an AMPS plate compatible with RAM mounting systems.
And, these navigators can be paired with the Garmin Drivemobile app to access live fuel prices, traffic and weather, as well as phone notifications and photoLive traffic camera updates. Additionally, these GPS navigators can connect to Garmin's wireless backup cameras5, or third party backup cameras to easily see behind a truck when reversing. The dēzl series also works with the Garmin eLog compliant ELD for subscription-free hours of service recording.