Mark this on your calendar and set an alarm in your smartphone for 11:50 p.m. on Thursday, March 19, 2021. That's when winter ends, spring arrives, and most American truckers get back to wearing only two — maybe three — layers of clothing, and they can stop obsessing about the condition of their tire chains.
But, professional truckers are not expected to simply survive winter. They're meant to face it head-on and reply, "Thank you, sir, may I have another?" when temperature records fall, and snow banks rise as they are today through the Northeast.
Doing that requires not just fortitude and excellent driving skills, but also the tools that give even the best driver an extra edge. Luckily, there's plenty of gear and gadgets that do just that.
Howes Additives
Since Wendell V.C. Howes helped pioneer the production of engine additives more than 100 years ago, the company that bears his name has been keeping pro truckers moving even in the coldest of winters. The Kingstown, Rhode Island company's products include:
Diesel Treat, which prevents gelling, adds lubricity, safely removes water, and boosts fuel economy. It does all of that without alcohol or solvents. The company says Diesel Treat also corrects problems inherent in today's ULSD fuel and eliminates smoking and rough idle. Available in 15, 32, and 64-ounce sizes.
Diesel Lifeline gets you and your truck out of any temperature-induced emergency. Lifeline is a fast-acting ad alcohol-free additive that reliquifies gelled fuel, deices frozen fuel filters, and prevents fuel filter icing down to -35 degrees. Lifeline requires no mixing or fuel filter changes and is available in 32 and 64-ounce sizes.
Diesel Defender is a solid multipurpose fuel additive that improves power, performance, and mileage by cleaning injectors, eliminating harmful deposits, preventing coking, and providing more complete fuel combustion. It also safely removes water from your truck's fuel system. Available in 32 and 64-ounce sizes.
Howes products are available at travel centers and auto parts stores across the country.
Snow Deer Rechargeable Electric Heated Socks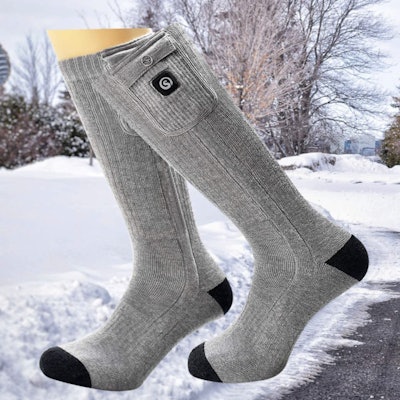 Few things can make you want to find an open truck stop parking spot, shutdown for the night, and crawl into your sleeper berth like cold feet. (Not "cold feet" as in being apprehensive, but when your feet are like blocks of ice in your boots.)
Good insurance against having to stop, do that, and miss a pick-up or delivery is slipping your feet into a pair of these heated socks.
Their 7.4-volt battery packs let you adjust the heat level to high, medium or low depending on just how chilly your feet are.
Snow Deers are made of medium-weight fabric (80% cotton, 12% polyester, 8% Elastane material) with reinforced toes and heels to keep heat from escaping. They come in unisex sizes of S, M, L, XL and are ideal for the flatbedder or bullhauler who has to be in and out of the truck and the cold.
WeatherAce Wiper Blades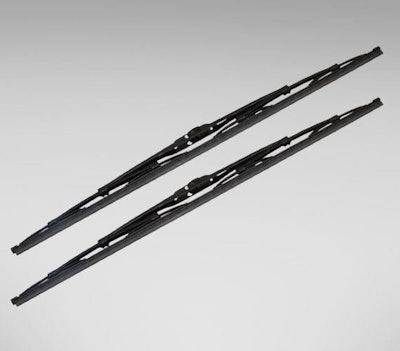 Few things are as important as clear visibility when you're driving. And, in the winter, fewer things are harder to achieve than a consistently clean windshield.
WeatherAce offers a comprehensive line of wipers meant to keep your windshield not just free of snow or other precipitation but also keep it clean and free of streaks that can impair your view of the highway.
Their blades' aerodynamic frame provides enhanced performance regardless of the conditions.  Made of natural rubber, WeatherAce blades also provide smear-free wiping, important when you're navigating through demanding conditions and locations.
Pre-installed universal adapters make for fast and easy installation, something that can be appreciated when replacement occurs while you're on a deadline. WeatherAce's stainless steel blade backing provides the kind of durability you need while on the road.
A member of the RoadPro Family of Brands, Weather Ace blades are available in 16", 17", 18", 19", 20", 22", and 24" sizes. They come with a 30-day warranty. Look for them online and in travel centers.
Weighted Blanket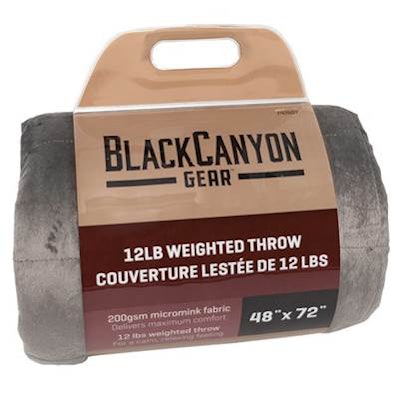 Consider this: you're done driving for the day, and you're ready for some quality bunk time. However, the tension of another winter's day driving lingers, and you can't relax, let alone fall asleep.
While a nice massage might help, that's not about to happen.
What can happen, though, is you pull your Black Canyon Outfitters weighted blanket out of the overhead cupboard and crawl into the bunk under it, and, "Ahhhhhhhhhh …."
Weighted blankets like this one made of micromink fabric and weighing 12 pounds have been shown to have therapeutic effects. They can help people who suffer from anxiety, restless leg syndrome, depression, insomnia, and pain by mimicking deep pressure stimulation. In short, they help the body's nervous system relax so you can sleep.
This weighted blanket from Black Canyon Outfitters is 48 inches x 72 inches and is available at travel centers and online.
Voile Telepro Mini Avalanche Shovel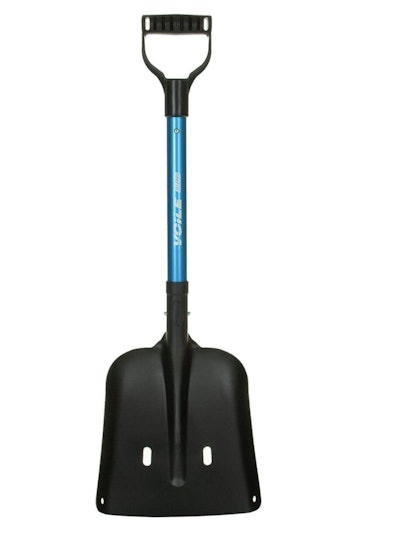 Two things are for certain about a trucker's life on the winter roads:
Sooner or later, you're going to need a shovel to dig snow away from your truck's tires.
Most normal shovels are too big to fit properly in a tool compartment or in what limited storage you may have in your sleeper berth.
That's why the Voile Telepro makes sense to keep in your truck. Its telescoping handle extends to 39.5 inches and even detaches from the sturdy aluminum scoop for storage. And it weighs a bit less than 2 lbs.
The Voile Telepro may be designed for ski patrol rescues in the mountains, but it will also excel at getting you freed from a snowed-in parking lot or the side of an interstate.
Black Canyon Outfitters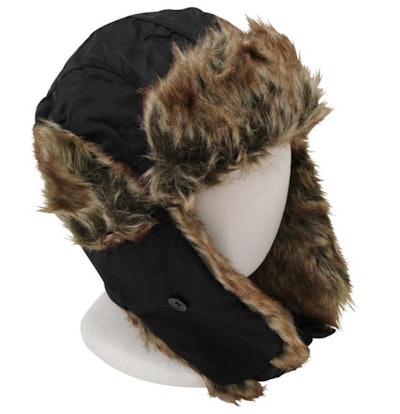 For many drivers of a certain age, a wintertime childhood memory of heading outside to play in the snow was not complete without one parent or the other saying in a slightly demanding tone, "Put a hat on!"
It was good advice then and remains as such today. Keeping your head covered when outside helps retain your body's heat and prevents you from getting chilled.
Black Canyon Outfitters, one of the Roadpro Family of Brands, has a variety of serious winter hats any parent would have approved of.
One of the most practical is the four-in-one hood balaclava. Made of soft polyester, it provides almost complete coverage of your head and face, ideal for when you're outside.
Black Canyon Outfitters also offers a faux fur-lined troopers hat, which provides almost complete coverage of your head, neck, and face. It's made with a 100% polyester black outer shell, soft inner lining, and soft faux fur lined earflaps and accents. The ear flaps can be buttoned up or snap-locked when down. One size fits most.
When winter's at its worst, Black Canyon Outfitters' knit face mask/hat is at its best. This 100% acrylic knit hat provides full coverage for the face with openings for your eyes, nose, and mouth. An extended bottom covers the neck for added warmth and protection from the elements. One size fits most. Available in Assorted colors of blaze orange and neon green.
Jackery Portable Power Station Explorer 500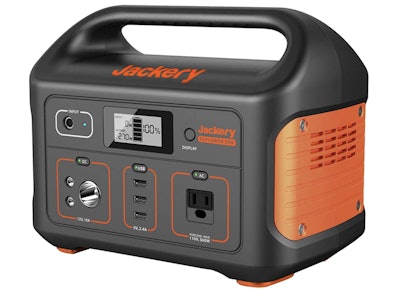 More often than not, you can keep your various devices properly charged with a decent adapter that plugs into your truck's 12-volt port. However, there may come an instance when you're stranded for an extended period of time during which you can't idle.
Packing a portable power station like the Jackery Explorer 500 can mean the difference between having your smartphone charged and working or with a useless phone with a dead battery. The Explorer 500 has multiple USB ports as well as an AC outlet into which you can plug small appliances. The lithium battery delivers 500 watts, enough to power an electric blanket on those cold nights when you might be stranded.
The Explorer 500 is just 11.8" x 7.6"x 9.5" and weighs just a bit more than 13 pounds, so it can easily find a spot in your truck's cab.
RoadPro Tactical Tools
It's especially important in foul winter weather to have the tools you need to make important repairs that may be the difference between you reaching the terminal or the road service truck reaching you by the side of the interstate at midnight. And, it's good to know you don't need a complete chest of tools to make many modest repairs.
RoadPro offers a display of numerous tactical tools at numerous truck stops; most are packaged in sets for your convenience. Such is the case of this three-piece tactical toolset that includes a 13-in-one multi-tool, a folding pocket knife, and flashlight.
Kahtoola MICROspikes Traction System
The shortest distance between successfully driving through winter and earning a paycheck, and becoming a statistic in a health insurance claim is keeping your feet under you on ice and snow. That's not always easy on the side of an interstate, in a shipper's loading area, or walking through a truck stop parking lot.
Black ice — the kind you can't see until it's too late — can upend you and your driving career quickly. Your best defense is the Kahtoola MICROspikes Traction System or something like it. These spikes will keep you safe while walking on ice.
Twelve 3/8 inch-long hardened stainless-steel spikes per foot dig into icy terrain and keep you moving safely just as your truck's tire chains. Heel tabs make putting them on and taking them off easier. Think of them as tire chains for your feet.
Unless you are blessed to drive a totally southern lane, you're eventually going to have to confront cold, snow, and ice on one of this great nation's highways. The key to doing that successfully is to lift your right foot a bit, remember and practice every nagging winter driving tip you got from the Safety Department and be sure you have the tools you need to keep your truck and yourself ready for anything Nature throws your way … including snowballs.