This past year has proven the importance of over-the-road drivers and the contribution they make in all of our lives.  If you're one of them, you know that driving for a living is different from getting behind the wheel for a road trip or family vacation. You know that GPS navigators are great tools to have on the road — no matter what kind of driving you do. But if you're like so many long-haul drivers still relying on GPS systems designed for passenger vehicles, you're missing out on a bunch of trucker-tailored features and capabilities that could be making your life easier and better. Is it time for an upgrade?
Bigger Screens, Easier Viewing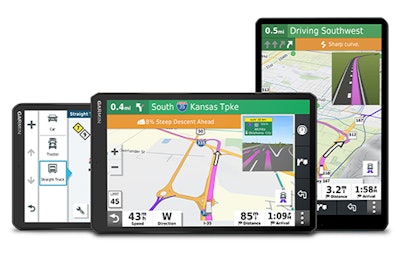 The bigger they come, the easier they are to see and interpret. Instead of squinting to read that small portable car navigator across a big truck cab — or trying to hold it close enough to see while you drive —  try out options in 6", 7", 8" or 10" formats with super-sharp touchscreen displays and clear, easy-to-read maps. Plus, the 8" and 10" displays typically offer both portrait and landscape orientation options, so you can position them whichever way gives you the best viewability in your cab.

Custom Truck Routing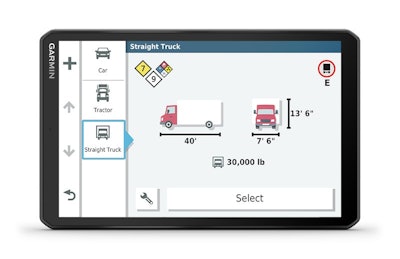 The best route for a car may not be the best for a truck hauling freight. A custom routing feature1, available on the select truck-specific GPS units, lets you enter your vehicle profile (customizable by height, weight, length, width, and hazardous materials carried) to find truck-preferred routes best suited for your rig and load. With onboard trip planners, you can easily change your route to include preferred roads, waypoints, or cities. And if you're driving in unfamiliar territory, there's a feature that shows you popular routes used by fellow truckers in the vicinity. Plus, driver alerts for upcoming bridge heights, weight limits, sharp curves, steep grades, and other potential "oops-factors" help add safety and take the guesswork out of getting your load delivered on time. 1.
Quality-of-Road-Life Features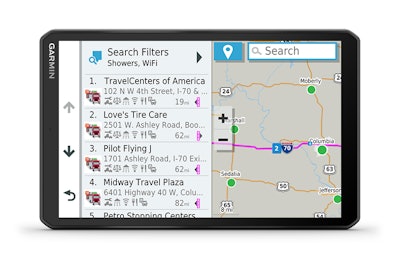 Need to make a pit stop? Grab a shower? Park your rig? Find a reliable mechanic? To help simplify life on the road, your OTR-friendly GPS can include searchable database information such as a Truck & Trailer Services directory that helps you locate all these things and more. The directory can filter listings by brand or amenity, such as "Restaurants" or "Showers." And truck-specific parking data helps you locate the choice slots at truck stops and rest areas along your route. You can even access load-to-dock guidance features that show potential loading zones or storage lots available as you're approaching your drop-off destination.
Staying Connected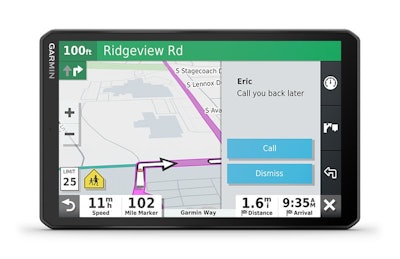 Want hands-free calling? Smart notifications on the big screen straight from your smartphone? Live traffic, weather, fuel prices? A voice assistant you can ask for directions? All these connectivity features and more are on the menu with these new-generation truck navigators.
 Bottom line, if you are still using your old GPS navigator, you can probably navigate your rig from Point A to Point B. But a GPS that understands how truckers work can do so much more to make life on the road less stressful and more enjoyable. Check out the latest GPS gear at your favorite travel stop, and see if you don't agree. 
FOOTNOTE: 1. Not available in all areas. Entering your truck profile characteristics does not guarantee your truck's characteristics will be accounted for in all route suggestions. Always defer to all posted road signs and road conditions.