No two truckers are alike. Neither are the routes they have to drive.
That's why navigation device maker Garmin has crafted a line of trucking-specific GPS units that can not just help get you where you're going but get there safely and on time. Garmin's dēzl OTR 500/700/800/1000 GPS truck navigators do that and more. All are loaded with the sort of features today's truckers need.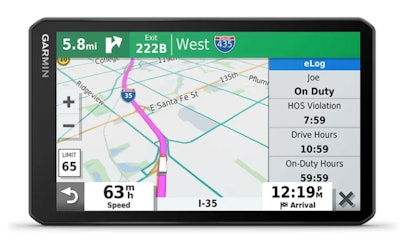 The dēzl OTR500/700/800/1000 models all have easy-to-read HD touchscreens, custom truck routing based on the size and weight of your rig, and industry-best load-to-dock guidance – allowing drivers to see specific loading zones and storage lots to bypass common public entrances when approaching their destination.
Key features on the dēzl OTR series include:
Available with 5.5-, 7-, 8-, and 10-inch display screens
Built-in PrePass notifications now available on all dēzl OTR models 
Can be used in either landscape or portrait modes
Custom truck routing based on size and weight of rig and load
Road warnings for bridge heights, weight limits, and sharp curves 
Truck and trailer services directory
Shows popular truck paths taken by other drivers
Truck parking locations
Break planning
Smart features include Garmin voice assistant, Tripadvisor traveler ratings, live fuel prices, traffic and weather when paired with the Garmin Drive mobile app on a compatible smartphone
Works with the Garmin eLog compliant ELD and select Garmin backup cameras (each sold separately) 
The dēzl OTR 500/700/800/1000 come with several mounting options, including a powered magnetic mount with a heavy-duty suction cup, a screw-down mount, and a 1-inch ball adapter with an AMPS plate compatible with RAM mounting systems.
Prices range from about $300 to about $800 depending on the seller and which model you purchase. 
Garmin's dēzl OTR 500/700/800/1000 GPS truck navigators are available online, at big box stores, and most travel centers and truck stops.