New technology continues to enhance the trucking industry to make it safer, easier, and more comfortable for drivers. New technology is not limited to the trucks and trailers that make the $875.5 billion U.S. industry possible. If you are looking to stay informed on the latest mobile tech products, we have a list for you.
Motorola Moto Watch 100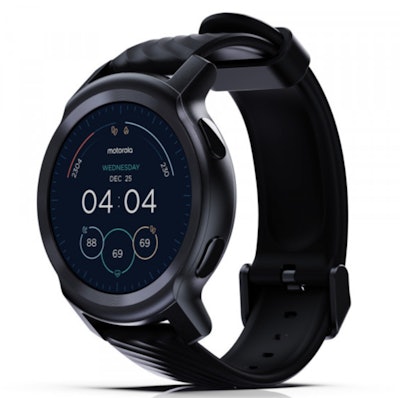 If this is the year you've decided to fight back against the health-related problems that the trucking life causes for a lot of drivers, the Moto Watch 100 from Motorola is a tool for you. It monitors your heart rate, counts your calories, monitors your sleep, and counts your steps. It functions in 26 different activity modes and has a built-in GPS. One charge lasts approximately two weeks. The Moto Watch 100 syncs with your smartphone – Android or iOS – to help track your progress. Available online for $99.99.
Garmin Dash Cam Live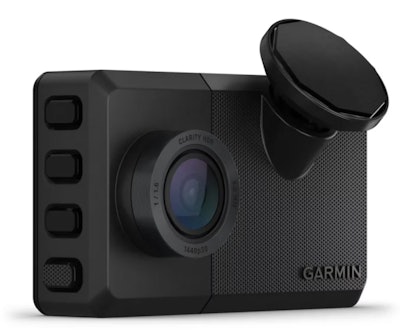 The new Dash Cam Live from Garmin is an always-connected LTE dash cam that offers drivers access to a live exterior view of their vehicle. With the purchase of an LTE subscription, drivers can utilize the Garmin Drive app to access an on-demand view of everything within sight of the Dash Cam Live in their vehicle. Drivers will also enjoy greater peace of mind by receiving theft alerts and other incident alerts on their phone while they are parked and away from the vehicle. The camera records high-definition 1440p video with a 140-degree eld of view, featuring Garmin Clarity HDR optics for crisp detail day or night, providing a clear witness to any potential incident. Dash Cam Live saved video clips are automatically stored for 24 hours in the secure, online vault and can be accessed using the Garmin Drive smartphone app. The camera is always on, meaning it automatically records and saves video of incidents, tagging time, date, and location of saved video thanks to built-in GPS. For drivers to enjoy all the connected features of this LTE dash cam, they must purchase a monthly vault subscription plan in the Garmin Drive app. These plans, which start at $9.99/month, enable 24/7 connected features, including live view, location tracking, theft alerts, and parking guard notifications, as well as the ability to extend the storage duration of video clips for up to 30 days. Available online for $399.99.
MobileSpec 5000mAh Rechargeable Power Bank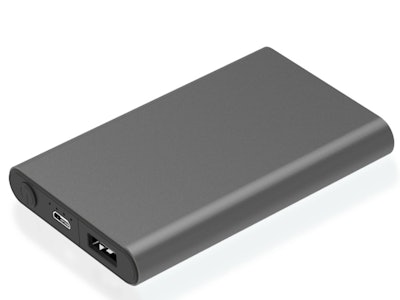 You can never have too many ways to charge your devices. With the MobileSpec 5000 mAh Power bank, you can charge your devices through USB-A and USB-CTM®. This power bank is a durable material of metal construction. Its powerful charging, 5000 mAh will power your smartphone, tablet, and other devices when you need them to be charged most. You may also simultaneously charge your devices if you are looking to do so. Available at a travel center near you.
OnePlus 11 5G Smartphone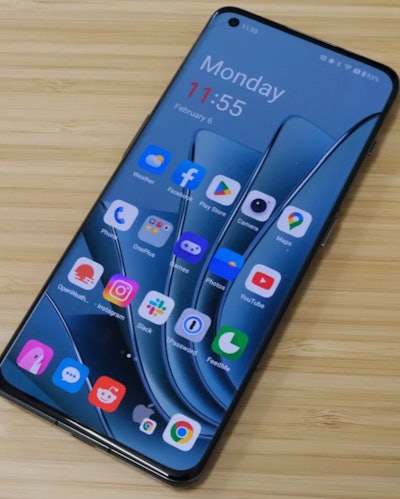 Companies have been introducing new models of smartphones since the first of the year, and one of the most notable new entries is the OnePlus 11 5G. It's powerful, has good battery life, and best of all for truckers on a budget, prices well below some other new Androids. The OnePlus 11 5G features the new Qualcomm Snapdragon 8 Gen 2 chipset, giving it top-of-the-cameras developed by Hasselblad: a primary 50MP sensor, a 48MP Ultra-Wide sensor, and 32MP Tele Sensor. This phone has a 5000 mAh battery for extended life. Available online for $699.99. 
PowerDrive 3,000 Watt Modified Sine Wave Power Inverter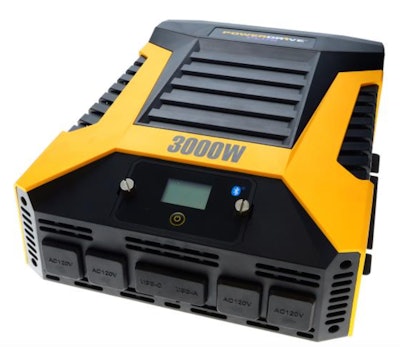 Ask a typical over-the-road trucker what in-cab accessory makes their driving life easier, and he or she will most likely say – after a custom seat – a good, capable power inverter. This one from PowerDrive, one of the RoadPro Family of Brands, offers four three-prong outlets and both USB and USB-C ports for charging devices. It delivers 3,000 watts of continuous power and comes with a 39-inch cable kit. The PowerDrive power inverter provides the capacity for all the devices that make life on the road more tenable. Available online for under $290. PowerDrive also delivers a 1,000-watt pure sine wave inverter, which provides clean continuous power – like the kind in your home – for sensitive devices. Available online for under $80 or in a travel center near you.
 Rand McNally TND Tablet 1050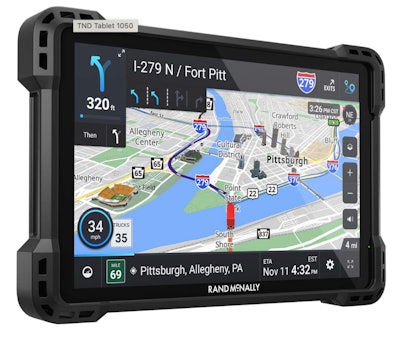 When Rand McNally rolled out its latest truck tablet, the company said drivers told them they wanted more accurate mapping and navigation, easier-to-see screens, louder voice guidance, and a more durable device that lessens the risk of breakage if dropped. Rand McNally listened and produced the TND Tablet 1050, which features:
New, upgraded Rand Navigation with 33% more truck-specific road data than other GPS providers.
Large high-definition 10-inch screen with enhanced mapping and graphics for ease of use
A removable tablet guard, a heavy-duty Corning Gorilla Glass screen, and three strong mounting options
Enhanced trucker tools including an upgraded camera for driver and vehicle inspection reports and receipt tracking.
At the heart of the device is upgraded navigation built by Rand McNally. The tablet delivers at least 33% more truck-specic road data. This means drivers will be less likely to be directed to the wrong routes due to misinterpreted road signs or a lack of weight-restricted routes.
Rand McNally's navigation software includes thousands of more low bridges 28 000 more Rand McNally's navigation software includes thousands of more low bridges, 28,000 more miles of weight-restricted roads, and 15,000 more miles of truck-prohibited roads. The large-format device is also built to meet the rigors of the road. The TND Tablet 1050's Gorilla Glass screen is said to be eight times stronger than conventional glass and four times more resistant to scratches. The new tablet also comes with a sturdy case or guard designed to protect it even more. Available online for $799.99 or at a travel center near you. 
SureCall's Fusion2Go OTR Cell Signal Booster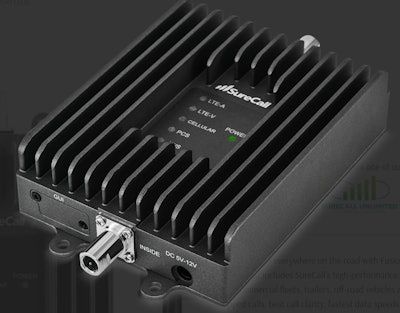 Even after years of improvement and expansion, cell service can be spotty at times in various locations. That's something that over-the-road truckers can ill-afford. SureCall's Fusion2Go helps ensure you stay connected no matter where you travel. The company said its device boosts 5G/4G LTE voice, text, and data signals for all North American service providers. Its exterior 16-inch or 32-inch antennas are designed for use on any kind of large truck and are rugged enough for all weather conditions. Available online for $499.99.
Six-Foot Multi-Use Charge and Sync Cable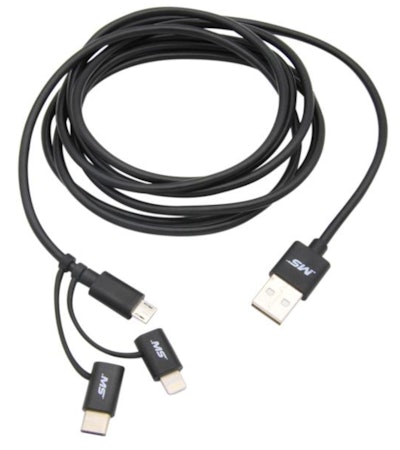 Until the tech world comes up with a universal cable for our myriad personal electronic devices, truckers are doomed to carry several different cords while on the road. That's why this cord from MobileSpec, one of the RoadPro Family of Brands, makes sense. It provides Lightning, USB-C, and micro to USB-A for charging and syncing devices. At 6 feet, this cord is long enough to plug into a power inverter in your sleeper berth and still reach devices up front in the cab. Available online for $29.99 or at a travel center near you.
Heybike Tyson Folding Electric Bike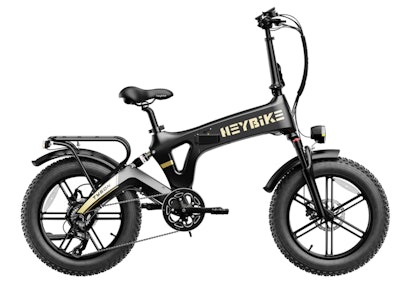 Sometimes you need transportation other than your truck, but having a full-sized bike is not practical. Built from a unibody magnesium alloy frame, the Tyson folding bike is lightweight without sacrificing any durability. And, while it can fold down to t in your truck or on a rear carrier, the Tyson also has more than just pedal power. The Tyson is powered by a 750-watt hub electric motor in the rear wheel with a 48V 15Ah battery. Heybike claims you can get a maximum range of 55 miles on pedal assist out of the battery pack. The bike includes both front and rear suspension for hitting the trails, 20 x 4-inch fat tires that can handle any terrain, and a sturdy rear rack that can haul up to 120 pounds. Available online for $1,699.
Tenkile Tech Pouch
With all the gadgets and gear the average trucker has with them on the road, it's essential to keep it safe, secure and organized. The 9-inch x 4.75-inch x 5.5-inch Tech Pouch from Tenkile does that well with:
An adjustable main storage area with from one to four compartments
Zippered cable pocket
Backup Micro SD storage in zipper puller
Dual access passthrough pocket
4 SD card storage pockets