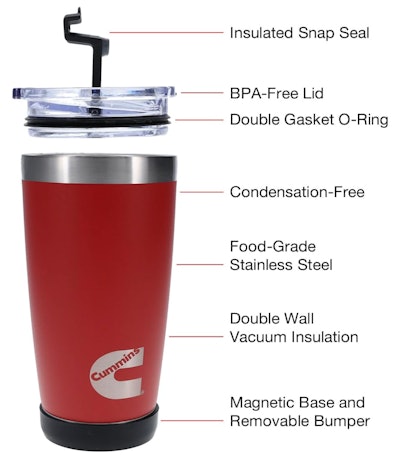 You can enjoy beverages on the go at the perfect temperature from first sip to last drop with the new Cummins lineup of tumblers. They feature convenient magnetic bases, non-slip bumpers, and double-wall vacuum insulation.
This Cummins tumbler has an attractive red matte (it's also available in black) finish and branded with the Cummins logo, and is the perfect travel tumbler for truckers and all travelers alike.
The secured snap seal lid provides leak-resistance and splashproof drinking. It does a great job of keeping liquids from getting out. Plus it is not screw-on nor overly sealed so it requires no struggles to get it open one-handedly when ready to drink. It closes easily when done.
This tumbler holds a healthy 20 ounces of your favorite drink without the lid on and 18 ounces with the lid secured.
This travel mug is made of food-grade steel and a BPA-free lid that can be used again and again.
What really makes this one of the best travel mugs is that it has a magnetic base, allowing it to adhere to any metal surface and you have extra anti-spill protection. Plus it comes with its own flexible anti-slip bottom bumper. 
These tumblers are available online in red for $20.56 and in black for $23.58.