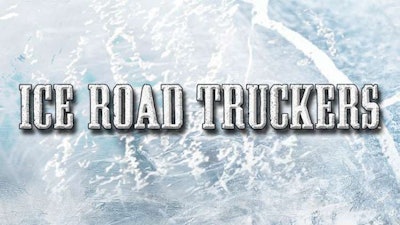 "Who will rise to the top, and who will sink?"
That question concluded the most recent episode (number nine) of Ice Road Truckers last Sunday. It's also the one that will presumably be answered Sunday during the finale of the eighth season of the History Channel show.
Here's how Sunday's episode set the scene for this weekend's wrap-up:
Team Polar – Lisa Kelly, Art Burke and Todd Dewey – head out on the long, last run of the season. To make matters worse, spring arrived in Canada and all that used to be solid under their wheels got a bit mushy as the three headed to Fort Severn.
But, Team Polar was not alone on what was repeatedly called the "world's longest seasonal winter road." Hot on their mud flaps were Darrell Ward and his son Reno, who is making his first-ever ice road run.
Aside from the show's normal driving drama, including a dicey crossing of frozen Hayes River, last week's episode featured a large dose of father-son sparks flew between Darrell and Reno. Reno was in a hurry and Dad wanted him to throttle back.
VP Express drivers – Hugh Rowland and Alex Debogorski – stayed closer to home in Manitoba, quickly upping their load count. When the hour ended, Team Polar and Team VP Express are tied at 169 loads each.
But, the real drama appeared just as Lisa, Art and Todd were ready to head home. Darrel, who had one more stop to make, asked Lisa to follow him. She still had a front-loader, snowmobile and extra fuel from her trip, and he needed the backup.
The credits rolled as Lisa pondered Darrell's request, weighing it against her loyalty to Polar Express.
Ice Road Truckers' finale airs at 10 p.m. Eastern and 9 p.m. Central Sunday.
Will you be watching? Let us know in the comments below.
\