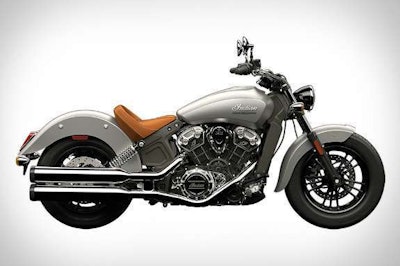 An iconic American motorcycle is making a comeback.
The Scout model by Indian Motorcycles makes its return yet this year, joining the company's four other models.
This classic cruiser went out of production in 1949, but is being revived by Indian, which is a wholly-owned subsidiary of Polaris.
Here are its specifics:
100 hp 69 ci liquid-cooled V-twin engine
562 lbs.
6-speed overdrive transmission
16-inch cast alloy wheels
Available in colors of Thunder Black, Indian Motorcycle Red, Silver Smoke, and Thunder Black Smoke
Prices start at $10,900
As an historical sidenote, it was a Scout that was featured in the 2005 movie The World's Fastest Indian, starring Anthony Hopkins as a New Zealander on a quest to set a speed record at the Bonneville Salt Flats.