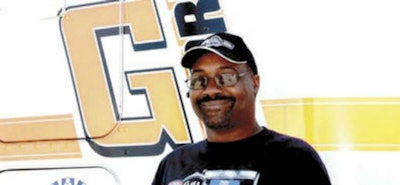 Another driver for Big G Express is a Tennessee Road Team Captain.
Steve Caudle has been selected for the Tennessee Trucking Association's statewide safety program.
This is Big G's third representative on Tennessee's Road Team in as many years. Caudle joins Danny Smith, who won the award in 2013 and Stephen Richardson, who was honored this year.
Smith was Big G's first employee and will celebrate his 20th anniversary with the company when Big G celebrates its own anniversary in January.
Caudle, who lives in Madison, Ala. And drives over the road, was recognized as Big G's Driver of the Year at the Shelbyville-based company's annual Employee Stock Ownership Plan meeting in July. He's a million mile safe driver, amassing almost 1.2 million accident-free miles during his six-year career at Big G Express.
Caudle will be taking the industry's message to the citizens of Tennessee over the next year. He and the other Road Team Captains will be making appearances at drivers' education classes, community activities, TTA sponsored activities and trucking events as they demonstrate the trucking industry's commitment to safety and its value to the economic growth of Tennessee.
The Road Team's top goals are to create a safer driving environment on our highways and reinforce a positive image of trucking.
"We are committed to safety and proud to have such great drivers as part of the Big G Team who can represent the industry as we promote the image of the trucking industry and improve safety on the roads," said Jodi Lamb of Big G.
Lamb added that the TTA's program also benefits the drivers. She said the drivers learn a lot and gain self-confidence through the public appearances they make.
About Big G
Big G is an employee owned company founded in 1995 with six trucks and 12 trailers. Today it has 467 tractors and 1,000 trailers. The company provides dry van truckload services mostly east of the Mississippi River.
(You may remember Big G for its Driver Appreciation Week dance video "Drive It Off" performed to Taylor Swift's monster hit "Shake It Off.")
Big G raised driver pay by between 2 and 4 cents per mile (cents per mile) in early May. Drivers with one to three years of experience earn 36 cpm; three to five years 38 cpm and five years and more, 40 cpm.
Benefits include: BCBS health, vision and dental, paid vacations, holiday pay, free life insurance, 401K, 1/2 cent per mile pay increases every six months and a free retirement account through our Employee Stock Ownership Plan (ESOP). Big G Express also offers bonus opportunities for safety, fuel and performance and referrals.