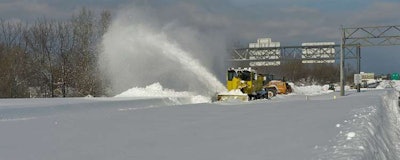 Bracing for the prospect of another major winter storm in a week, New York State is warning of the possible closing of one major interstate and is banning some trucks from two others.
According to an alert on the the New York State Thruway's website, effective at 7 a.m. Wednesday (Nov. 26) long tandems are banned from I-87 between New York City and Albany, and on I-90 from Albany Exit 24 to Westmoreland Exit 32.
Follow the NYS Thruway on Twitter.
Beginning at 7 a.m., Wednesday (Nov. 26), commercial vehicles will be banned from I-84 in both directions, from the Pennsylvania border to the Connecticut border. The state is also warning it could it could close I-84 if snow in the amounts being forecast materialize.
The National Weather Service issued weather watches and warnings for areas in and around New York State and Pennsylvania beginning early Wednesday and lasting through Thursday. The weather service says between 5 and 10 inches of snow could cover much of southeastern New York including the Hudson Valley. Up to a foot of snow impossible in higher elevations.
The state warns that hazardous road conditions combined with increased holiday traffic could cause significant problems.
"We're hoping for the best, but planning for the worst in order to keep New Yorkers safe," Cuomo said in a statement. "I've directed state agencies to be on heightened alert as this storm develops, and we are taking all necessary precautions to address potentially hazardous conditions."
The state has readied more than 900 snow plows and and more than 130,000 tons of road salt between New York City and Albany to respond to the storm.
This possible storm follows on the heels of a massive snowfall that closed the Thruway in western New York for most of last week.