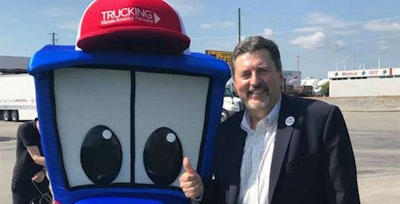 Trucking Moves America Forward, the trucking industry image campaign, now has a mascot.
The red, white and blue truck with large black eyes in the windshield and smile on the front bumper was rolled out today during a Facebook Live event at the Pilot Travel Center in Knoxville, Tennessee.
TMAF executive committee leaders, Kevin Burch, president of Jet Express; Wendy Hamilton, senior manager, sales marketing at Pilot Flying J; and Elisabeth Barna, COO and EVP of Industry Affairs at the American Trucking Associations made the announcement.
However, the bobtail truck needs a name, so TMAF is holding a contest. The group will take submissions through email at mascot@truckingmovesamerica.com and its Facebook page for about a month. Then, according to TMAF, voting will be held, and the mascot's name unveiled.
"Over the past three years, we've attempted to be visible throughout the country, and this newest member of our team will do just that, in a new, exciting way," said Burch.
"Just like our 3.5 million drivers, the mascot is ready to hit the road and visit as many of you as possible in the coming months and years," added Barna.
You can see where the mascot will appear on the TMAF website.