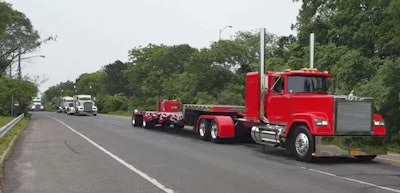 On June 17 a startlingly bright red 1989 Mack Superliner with a step deck trailer headed out onto the Long Island Expressway joined by about 200 other
trucks
.
This was no charity fundraiser, truck show drive or protest. Instead, it was an act of remembrance.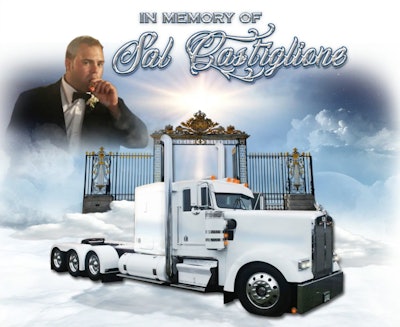 Strapped on the back of the trailer was a red and chrome casket that carried the remains of Sal Castiglione, who was part of his family's business, Sal C Machinery Movers in the Ridgewood neighborhood of Queens, New York.
Sal lost his battle with thyroid cancer, just as he and his wife were expecting their first child. A Go Fund Me page was started for the child by Sal's friend Nick Kimball of Amcan Truck Parts.
Anthony Pesce, one of the owners of the Elizabeth Truck Center in Elizabeth, New Jersey was a friend and colleague of Castiglione's and organized the processional. He and others at the truck center built the custom casket that carried their friend's remains.
"He was a guy that was passionate about trucking," said Pesce of Castiglione. "The kind of guy who would extend himself for anyone in the trucking community. His hand was always raised to help. He was a good guy and this is a big loss."
The funeral convoy accompanied Castiglione's body to a church service, and then many returned to the Elizabeth Truck Center for a celebration of his life.