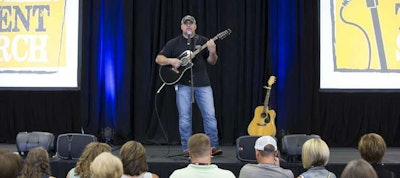 Richard Woods, a Mississippi-based owner-operator who hauls intermodal containers, won the 2017 Overdrive-Red Eye Radio's Trucker Talent Search finale Friday at the Great American Trucking Show. A panel of judges named Woods the victor in the after a sing-off style competition with the other two finalists Michael Lochmiller and Terrance Mathis.
Woods won $1,000 cash and a free recording session with AxleOutPro, who will also produce a music video featuring one of Woods songs.
"I'm blown away," Woods said. "I'm extremely grateful for being part of all of this. With the talent on stage, the other two guys, I didn't expect to walk away winning it."
Woods strummed an acoustic guitar and played a song, "Gran," that he wrote to honor his great-grandfather. Woods grew up driving trucks and farming with his dad, grandfather and great-granddad in Mississippi.
He started playing guitar at 13 and has played ever since. He drives a 1999 Western Star 4964EX, powered by a 500-horsepower Detroit Diesel, and runs mostly in a 500-mile radius around Memphis, Tennessee. He lives in Hickory Point, Mississippi.
The 42-year-old owner-operator got his CDL when he was 19 and has been driving ever since.
Musically, his inspirations include legends like Willie Nelson, Waylon Jennings, Johnny Cash and Don Williams, as well as contemporary artists like Chris Stapleton, Aaron Lewis and Colter Wall.
The three talent search finalists received free trips to Dallas for the Great American Trucking Show to compete in the contest's finale.
The judges who determined the winner were Overdrive Editor Max Heine, Red Eye Radio's Tim Walker and country singer Lindsey Lawler. Trucker and singer-songwriter Tony Justice emceed the event and played two of his original songs. Trucker Bill Weaver opened the event with two of his original trucking-focused songs.
This is the fourth annual Trucker Talent Search finale.