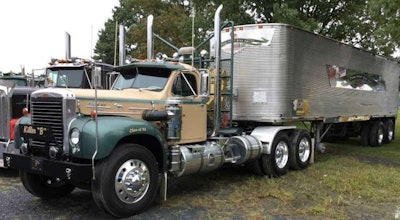 The year may be winding down but the trucking industry's calendar isn't.
Fans of Mack trucks will gather in Lititiz, Pennsylvania, to attend the All Mack Show at Gerhart Machinery Company Oct. 6-7.
The truck show features classic and antique Mack trucks, Mack memorabilia, vendors, and more. Drivers with a Mack truck from around 1900 to present are welcome to exhibit their trucks. Admission and parking are free.
In California, the annual California Trucking Show returns to the Ontario Convention Center in Ontario with hundreds of vendors. The show, put on by the California Trucking Association, runs Oct. 14-15, 10 a.m. to 5 p.m. Tickets are available for free on the show's site. The truck show's seminar topics include ELD implementation, how to start a trucking company, regulations, and more.
Here's what's on the calendar for October:
Oct. 1: 12th Annual Cartoberfest Car Show at Hurley Park on the River in New Hartford, Connecticut
Oct. 6-7: All Mack Show at Gerhart Machinery Company in Lititiz, Pennsylvania
Oct. 6-7: Hot and Cold Big Rig Truck Show in Pratt, Kansas
Oct. 6-8: American Truck Historical Society (ATHS) Southern Wisconsin Chapter Truck and Tractor Show at Richard County Fairgrounds in Richland Center, Wisconsin
Oct. 7: ATHS Bayou State Chapter and Second Chance Car, Truck and Bike Show at 165 Fairgrounds Road in Ruston, Louisiana
Oct. 8: ATHS Gateway Chapter Antique Truck/Tractor Show at Dickey Bubs Farm & Home Supply in Union, Missouri
Oct. 11: Wreaths Across America Charitable Gala at Gaylord National Harbor in National Harbor, Maryland
Oct. 13-14: ATHS Western North Carolina Truck Show at Western North Carolina Agricultural Center in Fletcher, North Carolina
Oct. 14-15: California Trucking Show at Ontario Convention Center in Ontario, California
Oct. 15: ATCA 36th Annual Antique Truck Show at Bolton Fair Grounds in Lancaster, Massachusetts
Oct. 15: ATHS Metro Jersey Truck Show at Skylands Stadium in Augusta, New Jersey
Oct. 21: 16th Annual Corbitt Truck Reunion at Corbitt Truck and Tractors in Henderson, North Carolina
Oct. 21: ATHS Heart of Dixie Truck Show at Lake Guntersville in Guntersville, Alabama
Oct. 21: Autocar Trucks 120th Anniversary Party at Autocar Trucks Factory (551 S. Washington Street) in Hagerstown, Indiana
Oct. 21: Jerry Porter Memorial Truck Show at Porters Welding in Orland, California
Oct. 22: ATHS Baltimore Washington Chapter Fall Show at Bowles Farms Event Center in Clements, Maryland
Oct. 22: ATHS San Chapter 4th Annual Truck Show at Vista Antique Steam Engine Museum in Vista, California
Oct. 28: ATHS Piedmont Carolina Chapter Fall Antique Truck Show at 2914 Sandy Ridge Road in Colfax, North Carolina
Oct. 28: Cars and Coffee at Gateway Classic Cars in O'Fallon, Illinois