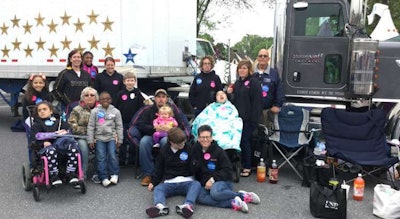 When 539 trucks fired up their engines and headed out of the Burle Business Park for the 29th annual Mother's Day Truck Convoy to benefit the Make-A-Wish of Philadelphia, Delaware and Susquehanna Valley, Keith Wagner was in the lead.
The driver of 38 years was in the coveted first spot by virtue of raising the most money, more than $22,000.
But, there was more than the csh that made it appropriate for Wagner to lead the way. The trailer he was pulling had dozens and dozens of stars on its sides, each with the name of a Wish child who has died. And, one of those stars says "Harley W.", Wagner's granddaughter.
Moreover, members of his family have adopted nine special needs children. All were with Wagner on Sunday for an event that started 29 years ago when a sick little boy said his wish was to ride in an 18-wheeler and talk on the CB.
"We love it," said Wagner about the family's commitment. "We love doing it for the kids. Those kids have a right to be here too. God put them on this Earth for a reason."
Make-A-Wish Leader: Truckers 'Are Everything'
Dennis Heron is the president and CEO of the Make-A-Wish chapter and said the convoy means "everything" to his organization, but it also means so much to the greater Lancaster area.
"This is a Mother's Day tradition," said Heron. "For 29 years they have grown accustomed to the convoy being part of their celebration of their Mother's Day. It has really been embraced. On one of the heaviest traveling days of the year — people going to see mom, have dinner, taker her presents — and (the state) practically shuts down Route 222 for us to have this convoy. It's not always about the money, it's about the community coming together and recognizing there are deserving children in their community that deserve to be supported through this event."
And, to the truckers, Heron says, "You guys are everything. You are the heart and soul of this community and this event. Without them and their goodwill and their fundraising abilities, we're at ground zero. And, they really embrace it. They relish the idea of having a wish child riding with them. They get a sense that they are truly giving back."
Driver Says He Too Does It for the Kids
Leonard Heiser was another driver who gave up his weekend to be part of the convoy, something he has done for several years. On Sunday, he had two Make-A-Wish recipients in his cab, including one who rode with him for a few years ago.
Riding with Heiser Sunday was Dominick Barnhart and Katelyn Dundore, who rode with the diver for the first about eight years ago. Then she was awaiting a bone marrow transplant because she suffered from aplastic anemia, a condition that occurred when her body stopped producing enough new blood cells. Now she is healthy and teaches Spanish at a school in Delaware.
He raised $4,592 for Sunday's convoy by holding fundraisers, through the generosity of businesses in his hometown of Ephrata and "a lot of family support."
Heiser, who said he and his family watched the convoy for 20 years before driving in it, responds like most of the drivers when asked why they give up Mother's Day and work hard to seek donations for the event: "I do it for the kids." But, for Heiser, one of those kids was family.
Sunday he said his niece's daughter was born "a few months premature and Hershey Medical Center took care of her. And she just turned 27 a couple months ago." He added that the son of the president of the company he drives for was injured in an accident as a child and is now 28; Hershey Medical Center cared for him too.
"There are all these kids, and they don't know what tomorrow will unfold," said Heiser, who hauls equipment for a company specializing in bridge and dam repair and soil stabilization.
Convoy is 'Trifecta' for Company Founded Here
This was the third year for the RoadPro Family of Brands and DAS to sponsor what has become one of the most successful charity convoys in the nation, and an executive of the companies said it has become a perfect fit.
Chuck White, vice president of brands and marketing for RoadPro and DAS, said the convoy "is always a fantastic event," and credits much of the success to the drivers who participate.
"Truckers have a giving heart," said White. "There's their home and their home on the road and the brotherhood really comes together and raises money for a fantastic cause. They all seem to know someone through someone and it seems there is a heart for giving in the trucking community."
Even before Sunday's event was over, White was looking ahead to next year, the 30th anniversary of the convoy. He said his team is already working "to add some special things, and we'll wait and see how they unfold."
White said that involvement by RoadPro/DAS works in several ways.
"It really speaks to us on three fronts," said White. "The truckers are our core audience. They're the community we serve. So (it's good) to be here with them in our hometown of Lancaster, Pennsylvania where the company was founded. And, we as a company have stewardship heart and this speaks to that stewardship, which is for children and families in need. It's a trifecta for us."
Driver Whips Up Convoy Casserole
Not content to only drive in Sunday's convoy and raise money for Make-A-Wish, one driver loaned his culinary skills to the cause.
One of the many food stands at the event was serving Convoy Casserole, a dish created by Rob Finch, an owner-operator leased to Landstar Ranger from Marietta, Pennsylvania.
The breakfast casserole contains scrambled eggs, sausage and hashbrowns topped with melted cheese. Customers could add either sour cream or hot sauce. It sold for $4.
Finch said the dish was made by a friend of his and served as Cowboy Casserole at another charity event. He suggested it to the convoy's food committee, which like the idea and added it to the day's menu.
Finch said he and a pal John Chile got together Friday night and whipped up a batch of the casserole. He said the ingredients were all donated by Darrenkamps Market of Mount Joy, BB's and Commercial Travelers Association.
Aside from his generosity in the kitchen, Finch also raised $8,738 for the convoy.
The total raised by Sunday's convoy will not be known for a couple of weeks.
Here's a few of the 539 trucks that were part of Sunday's convoy: