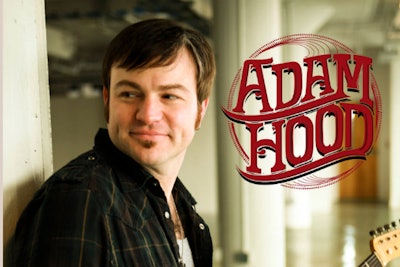 If you're a fan of Miranda Lambert and/or Little Big Town, then you may appreciate the music of Adam Hood if only indirectly.
Hood wrote Lambert's Good Ol' Days and also penned LBT's Front Porch Thing as well as a number of other songs recorded by others like Brent Cobb, Anderson East, and Lee Ann Womack.
And, the Opelika, Alabama-born Hood is singing his own stuff again. He has a new album, Somewhere In Between, arriving Oct. 12, and the 11-cut disc is getting some critical praise.
"As laidback as Hood's tone of voice and loose-limbed grooves tend to be, he's gifted at illuminating the complexities of contentment, the choices that make up a life, especially one that moves at a slightly slower pace," wrote Jewly Hight on NPR's First Listen.
Tracks include:
1. Heart of a Queen
2. She Don't Love Me
3. Alabama Moon
4. Downturn
5. The Weekend
6. Bayou Girl
7. Easy Way
8. Locomotive
9. Keeping Me Here
10. Real Small Town
11. Confederate Rose