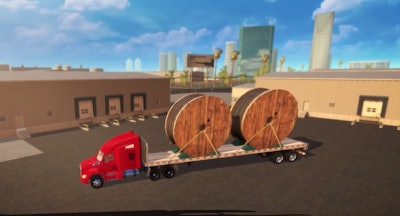 If you don't get enough trucking during your daily driving, now you can continue while on a break, in your sleeper when day is done or at home.
Game maker astragon Entertainment and developer Jujubee have just rolled out Truck Simulation 19 for both iOS and Android devices.
The new game allows you to not just drive a truck through much of the U.S., you also can build your own trucking empire, choose which trucks and trailers you use and haul the kind of freight you wish.
Truck Simulation 19 is available at the App Store and Google Play. The game costs $2.99 and there are in-app purchases.
The game allows players to choose between several trucks: Kenworth's T680, T880 and W900 and Mack's Anthem, Pinnacle and Titan, all of which can be customized. Likewise, there are choices of 12 different trailers with which to haul some 200 types of freight throughout the East, Midwest and Southern U.S.
Truck Simulation 19 requires you to live within the speed limit or pay the price, and stop to refuel and rest. It also allows you to build your company by adding trucks, building terminals and hiring more drivers.
There is no word whether Truck Simulation 19 requires ELDs on the trucks.