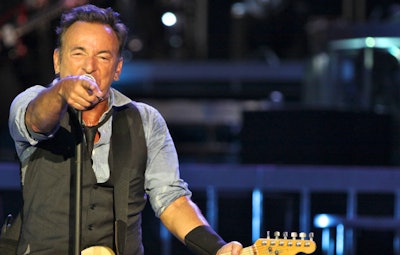 The Boss is back!
After a five-year absence, Bruce Springsteen delivers a new album of original music June 14. The first single from it, "Hello Sunshine", arrives on streaming services at midnight.
Interestingly, the 13-cut album is titled Western Stars, but there is no indication it's about the storied trucks made by Daimler Trucks North America.
A press release about the album, his first batch of new, original tunes since 2012's Wrecking Ball, said songs on the new album "encompass a sweeping range of American themes, of highways and desert spaces, of isolation and community and the permanence of home and hope."
Springsteen adds, "This record is a return to my solo recordings, featuring character-driven songs and sweeping, cinematic orchestral arrangements. It's a jewel box of a record." It's said to be influenced by the Southern California pop sounds of the late '60s and early '70s.
Western Stars, which follows the collection of songs from the Springsteen on Broadway show, arrives June 14.
Western Stars Track List includes:
1. "Hitch Hikin'"
2. "The Wayfarer"
3. "Tucson Train"
4. "Western Stars"
5. "Sleepy Joe's Café"
6. "Drive Fast (The Stuntman)"
7. "Chasin' Wild Horses"
8. "Sundown"
9. "Somewhere North of Nashville"
10. "Stones"
11. "There Goes My Miracle"
12. "Hello Sunshine"
13. "Moonlight Motel"