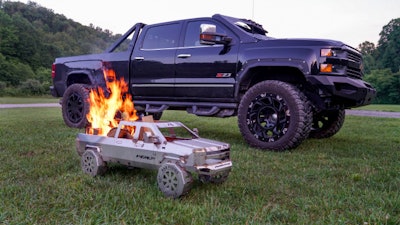 Just in time for the outdoor living season, pickup truck drivers can have a fire pit that reflects their ride.
Fab Fours, makers of pickup customizing accessories, has created a line of 1:4 scale fire pits shaped like:
Made of 16 gauge steel, the fire pits hold enough wood to burn for several hours. All have simulated 40-inch tires, open fenders, and Matrix Series Bumpers. Each has a bottle opener incorporated in the design. All have removable tow mirrors.
The Ford, Chevy, and Dodge sell for $425. The Jeep for $365.