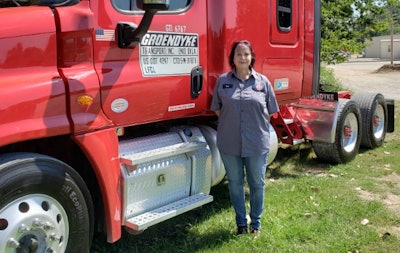 Many a trucker's origin story goes something like this: relatives drove trucks, the youngster is smitten, gets their CDL and hits the road without looking back.
Not so for Pamela Coffman, who lives in Sperry, Oklahoma a bit north of Tulsa. Yes, she was around relatives who drove trucks, but she followed a different path. She married, raised a family, spent time in several clerical and administrative positions and put in 10 years as a 911 dispatcher. Then, following a divorce and once her youngest daughter turned 14, Coffman figured it was time to reinvent herself.
At the age of 53, with a new CDL in hand, Coffman went to work for Groendyke Transport, one of the largest tank-truck carriers in the U.S., which is located in nearby Enid, Oklahoma. Since joining the company last November, Coffman has established herself as a versatile driver and acquired the skills to be recognized by the company.
Coffman is one of 11 drivers in the running for the 2019 Mike O'Connell Trucking's Top Rookie Award presented by Truckers News. She was nominated by Tulsa Technology Center, where she trained and got her CDL.
After graduating from Tulsa Tech, she began a methodical process to find a company that would be a good fit for her. She didn't have to look too far. Groendyke, said Coffman, had what she was looking for: good pay, good benefits, a reputation for safety and the opportunity to do several types of driving.
Coffman said she often fills in wherever the company has a need. One day she may make deliveries across town, and on other days she may go over-the-road. She makes runs to Indiana, where some of her children live, as well as to Kansas, Iowa, and Texas.
And, she is pleased with her choice of a new career and the company she works for.
"I'm having a wonderful time," said Coffman, who has also remarried. "I love it. I'm completely happy. This is a pretty amazing life."
While that means a lot to Coffman, she said it's also important for her children.
"My kids are one hundred percent supportive," said Coffman. "They're amazed. As a mom, the best thing is to do something your kids see as an accomplishment."
Still, there are practical reasons why Coffman is pleased with her new career path. She said she has never earned the kind of money she does now. Coffman and her husband have purchased a home and two new vehicles since she started driving.
"Being in the trucking industry has improved the quality of my life, raised my income level, and improved my self‐confidence," said Coffman in her contest nomination. "It has given me a sense of accomplishment as I returned to the workforce as a mature woman in a professional capacity."
And, she's optimistic about the future. Coffman said she can see herself driving "for another fifteen years, minimum."
The Mike O'Connell Award for Trucking's Top Rookie will be presented at the Great American Trucking Show Friday, Aug. 23 at 2 p.m. on the Truckers News Stage in Hall "A" of the Kay Bailey Hutchison Convention Center in Dallas.
The winner receives $10,000. They also receive a prize package worth $530 from the RoadPro Family of Brands, which includes a RoadKing Noise Cancelling Bluetooth Headset, LUMAGEAR Headlamp, PowerDrive 1000 Watt Bluetooth Pure Sine Wave Power Inverter, BlackCanyon 64 oz. water bottle, BlackCanyon Large Duffle Bag, MobileSpec Qi Wireless Charging Mount, and RoadPro 12 Volt Soft Side Cooler. The winner also receives a ClearDryve 200, Rand McNally's premium noise-canceling 2-in-1 headphones with removable earpieces and adjustable boom mic and the current Deluxe Motor Carriers' Road Atlas.
The other 10 finalists receive $1,000, a RoadPro Family of Brands MobileSpec Qi Charger, and Rand McNally's ClearDryve 200.
The Top Rookie award is presented by Truckers News with the support of the Commercial Vehicle Training Association, National Association Of Publicly Funded Truck Driving Schools, and Professional Truck Driver Institute.
Recognizing the top rookie driver was the idea of the late Mike O'Connell, who was formerly the executive director of the Commercial Vehicle Training Association. The award is named in his honor. He believed that honoring a top rookie driver helped show new drivers they are appreciated by the trucking industry.