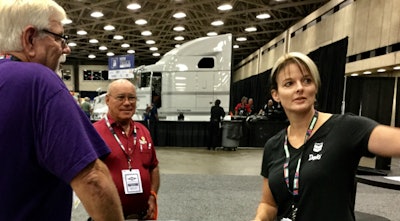 Gone are the cameras and producers but Lisa Kelly is still driving trucks and looking forward to hitting the ice roads once again this winter.
The star of the reality TV hit "Ice Road Truckers" is also drag racing trucks, tending to her seven horses, riding motocross and enjoying her role helping promote Chevron Delo products. She was in that role Friday at the Great American Trucking Show in Dallas.
Kelly, who spent eight seasons on the show that ran for more than 100 episodes, said she drives part-time for a friend's trucking company in Alaska where she lives. She said she fills in for other drivers taking time off, but adds she'll be driving full time this winter when the roads freeze solid.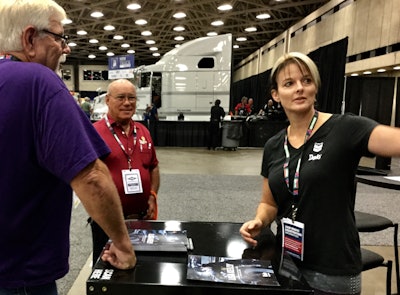 "I love it," said Kelly. "I'll get out of the truck, skipping across the yard after a rough trip to Prudhoe Bay, and my boss will look say me and say, 'You have some screws loose.' But that's why I drive these roads."
She also drives them out of a strong sense of friendship. "I'm really interested in helping him out."
When asked what she has been doing since "Ice Road Truckers" ended its long run on History, Kelly said she was invited to Diesel Fest in Saint-Eustache, Quebec, Canada where "they let me play all the time." She said organizers encouraged her to see what the racing trucks were all about.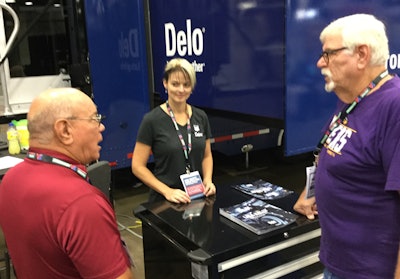 "One guy let me drive his truck and another guy let me drive his truck," said Kelly. "I was like, 'Oh, my gosh, this is so much fun!" She admitted looking at a possible race truck, but quickly added, "Like I need another expensive hobby."
And, on the topic of hobbies, Kelly said she has taken up mounted archery, which truly is what it sounds like. She said she shoots with a Mongolian longbow while riding. Kelly said she set up targets in a heated barn to hone her skills in the winter.
Looking back, Kelly speaks fondly of her time spent on "Ice Road Truckers."
"I met some amazing people," said Kelly. "I've learned a lot from some really good truck drivers like Darrell (Ward), Todd (Dewey) and Carey (Hall). They taught me so much."
Of course, drag racing trucks and Mongolian mounted archery aside, the most important question must be asked: will there be a new version of "Ice Road Truckers?"
"To be honest," Kelly said. "I don't know. There's been a lot of talk, but I don't have an official word yet. I'm cool if they do. And, if they don't, I guess I'll have to go be a real truck driver again. It's been nice to be a normal person again."