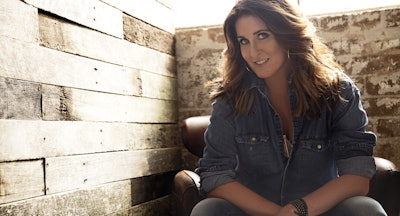 Australian singer-songwriter Jayne Denham will head to Alaska next month to film the music video for her recent single "Black Coffee & White Lines" with Ice Road Truckers cast members, but she had time to chat with Truckers News before her trip.
Denham debuted her country-rock sound, including many trucking-themed songs, in the United States at the 2016 Mid-America Trucking Show. Her American career took off quickly and now she can regularly be found performing across the country at truck shows. Denham was recently announced as Women in Trucking's new ambassador and her music video featuring Ice Road Truckers cast members is expected to be released before November's end.
We spoke with Denham about her musical journey through the American trucking industry.
Q: What was it like being able to do the meet-and-greet at GATS with some of the Ice Road Truckers cast members?
Last year we were talking about Black Coffee and White Lines, my new single that has just come out off the album. I've met some of the Ice Road Truckers at the events like Lisa Kelly, Carey Hall, and we all just hit it off and got on great. We were talking about the video for Black Coffee and White Lines and Bob Stanton, who works with some of the guys, said, would you be interested in me talking to them and seeing if they want to be in the video? And I'm like, okay, why not! They all said yes so I'm heading over to Alaska Nov. 3 and we're recording the video with the Ice Road Truckers in Alaska. Pinch me now.
I have to say the best thing about it was being at GATS with them and doing promotion for the release of the single, that was probably the best thing we could have ever had to video because we all just had so much fun. We all got on so well. We laughed so much. I'm super excited to see how that's going to resonate in the video clip because we've all become really great mates.
Q: You were recently announced as Women in Trucking's new ambassador. What's your reaction to being chosen for that? What can we expect to see from you in this ambassador role?
Women in trucking is something I've always been passionate about. My first ever trucking song was about a girl that drives a truck and being a girl myself obviously I really appreciate women drivers. I've kept in touch with the Women in Trucking girls here in America and they kept inviting me to sing at their conferences over the years so I got to know them. When we were looking at the rolling out of what we're going to do in the next 12 months they were really excited to have me as their ambassador to help shine a light on what they're doing and the changes they're making, and just keep doing what I do and write songs and cheer them on.
I'll be shining a light on what they're doing and bringing attention to Women in Trucking and obviously using my platform of music to tell everyone what they're doing here in the states, and hopefully get some of the girls to come to Australia someday.
Q: Out of all your trucking songs, do you have one that's your favorite and if so, why?
That's a really hard question. I love the ballads like Black Coffee and White Lines, a bit more middle of the road, but I think probably I'd have to say from a performance point of view every time I perform Addicted to the Diesel it's always one of those songs that I love singing at a show. I think probably Addicted to the Diesel, but then I love Stacks. Every time I do Stacks everyone goes crazy.
Q: How do you split your time between Australia and America? Do you ever get any whiplash going from the Australian trucking industry to the American one?
I'm really lucky. I can sleep on planes and travel never really worries me. I guess I'm like a truck driver, really, I'm just in a plane and not a truck. When opportunities come up I look at whether it's going to work in the schedule. I've been busy. This year has been the busiest year in my career in a long time. I've done so many shows this year, which has just been fantastic because that's what it's all about. Getting out on the road and singing my music, so whenever you guys want to invite me over I'll keep coming over and singing.
Q: How do you think your experience with the American trucking industry has impacted your music?
When I first came over Calamity wasn't even out. I was just starting to write for that. From a songwriting point of view, I had to really think globally because obviously I was just focused on my little Australian career that I had and I was singing about our trucks and our roads and our towns and how many wheels we have, all that sort of thing. So I had to learn a little bit more about what culturally the trucking industry is like here and then try to figure out how to balance that between not leaving Australia behind but also not making it all American at the same time. That was a challenge but it was really fun. It just meant I had to ask a lot of questions and do a lot of research to make sure I got all the details right.
Q: Based on your experience in both the American and Australian trucking industries, how do you think they compare? Are they more different or more similar than one might expect?
They're very, very similar. There are differences in terms of the actual trucks themselves. We have our road trains and your trucks are a lot wider than our trucks because our roads are a lot smaller. There are some differences like that but in terms of the people and the culture, it's pretty much the same. I just love the industry because everyone is just so real and raw. What you see is what you get, which is a very Australian thing too. Australians so much are like that as a culture and I think the trucking industry is the same, so I guess that's why I fit in.
Q: You come from a trucking family there in Australia. What has been your family's reaction to your success in the American trucking industry?
I think they can't believe it in some ways, it's like what the heck, you wrote these songs and now you get to travel to the states and perform? They're really shocked and really happy that I'm able to do what I love to do and that's perform but also write music. They inspired that life and so they're pretty happy about it.
It just never looks like what you think. I was only saying yesterday to someone, if someone had told me writing a song about a girl that drives a truck was going to open up doors all over the world for me, it sounds like some amazing marketing idea. It wasn't at all. I wrote a song about a girl that drives a truck and the rest is history. I couldn't have planned it if I tried.
Q: You've accomplished a lot in a relatively short amount of time in the American trucking industry. What is on your roster for the next year?
I have no doubt I'll be back in talks with different shows that are coming up, some truck shows that have asked me to come and perform. I'll start announcing them as they're confirmed and I look forward to coming back and being at MATS and GATS and all those fun truck shows.
___
Deanne Winslett is the associate editor for Truckers News and She Drives Trucks. You can submit story leads to her at [email protected].