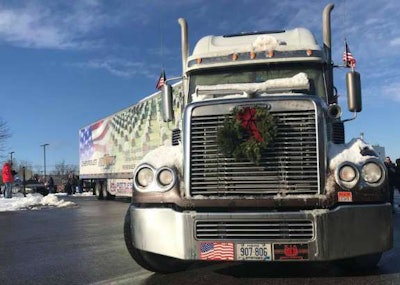 The National Association of Independent Truckers (NAIT) and insurance partner IAT TransGuard recently donated $50,000 to Wreaths Across America, which ensures remembrance wreaths are placed on the graves of U.S. military veterans in the U.S. and abroad. The contribution will be used to offset fuel costs for independent truckers helping deliver the wreaths from Maine to one of nearly 1,700 participating cemeteries.
"Fuel assistance is extremely important to me," said independent driver Justin Schoot. "Every year I donate my time and truck because I believe the Wreaths Across America effort is a worthy cause. Some years are better than others, and the fact that NAIT donates money to help supplement fuel costs allows me as a sole owner-operator to honor our fallen troops."
"Wreaths Across America continues to resonate more and more with Americans across the country, and with that support, the program grows and the need for professional drivers and equipment to deliver wreaths increases," said Don Queeney, director of transportation for Wreaths Across America. "Our reliance on independent truck drivers cannot be understated when talking about the success of National Wreaths Across America Day. With this generous donation from NAIT, professional drivers who might not have had the means to participate, now will be able to join the mission."
Wreaths Across America Day is Dec. 14.
Drivers interested in hauling a load of veterans' wreaths can visit the organization's website for more details.