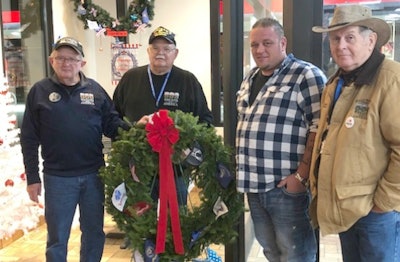 TravelCenters of America hosted 150 volunteers and veterans at its Petro travel center in Bordentown, New Jersey last week as they traveled to place remembrance wreaths on the graves of U.S. military veterans.
The travelers were on their way to Arlington National Cemetery, where wreaths were placed on the graves Saturday, Dec. 14, National Wreaths Across America Day. They were treated to dinner at the Iron Skillet restaurant at the Petro located on Interstate 295 in Bordentown.
"It was a perfect night to host the men and women on their drive to deliver 250,000 wreaths this Saturday, Dec. 14, to Arlington National Cemetery," said Scott Anderson, general manager of Petro Bordentown.
Some 250,000 wreaths were placed by volunteers and delivered by company drivers and owner-operators.
The Wreaths Across America organization is a not-for-profit charity whose activities are made possible by volunteers who participate in the events and raise funds to sponsor the wreaths.