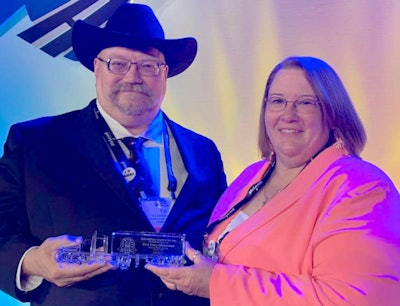 Two drivers have been recognized for their highway heroics, being named 2019's Highway Angels of the Year.
The husband and wife team of Ed and Tracy Zimmerman, who are lease operators for Hirschbach Motor Lines, Inc. of Dubuque, Iowa, were honored Tuesday, March 3, by the Truckload Carriers Association and EpicVue, sponsors of the program that honors truckers for helping those in need.
TCA tells why the Zimmermans were honored:
On May 25, 2019 at 8:30 a.m., Tracy was at the wheel and Ed was in the sleeper berth as they drove to Hodgkins, Illinois to make a delivery. While traveling on Interstate 77 near Beckley, West Virginia, Tracy came around a curve and noticed a UPS truck and another vehicle stopped. Looking farther ahead, Tracy saw a vehicle, upside down, in a ditch, and on fire.
Tracy stopped the truck, positioning it to block traffic, as another motorist who had stopped came running up to the truck, asking for a fire extinguisher. He said that the motorist was trapped in the burning vehicle. Ed grabbed the truck's fire extinguisher and they ran to the vehicle. They joined an off-duty firefighter who had also stopped at the scene. As one bystander used the fire extinguisher, another used a crowbar to smash the passenger-side window. The trapped motorist was conscious and told them his leg was stuck. Ed and Tracy worked with the two other men to pull the trapped motorist free and carried him away from the vehicle. Moments later, the vehicle exploded.
"It was a surreal, incredible, life-changing moment," Tracy said. "God puts us where he needs us the most. Two more minutes and that man would have been burned alive."
"Thank you both for your selfless act of courage on that May morning," said EpicVue CEO Lance Platt after presenting the Zimmermans with their award. The Zimmermans received an EpicVue satellite TV package that includes a 24-inch flat-screen TV, a DVR, and a one-year subscription to over 100 channels of DIRECTV programming, including premium channels such as HBO, Cinemax, Showtime, and the NFL Sunday Ticket.
During the award presentation, TCA Highway Angel spokesperson and Nashville recording artist Lindsay Lawler, accompanied by guitarist Chris Roberts, sang a rendition of her song Highway Angel and thanked the driving team.
The Highway Angel program, now in its 23rd year, recognizes professional truck drivers who have selflessly helped others while on the job.