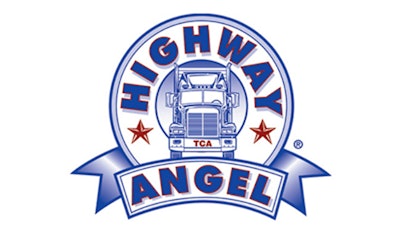 Kyle Fitzgerald and William Lyons, who drive for Smokey Point Distributing, have been honored for their efforts at the scene of an accident in Michigan last fall.
The two were named Highway Angels by the Truckload Carriers Association for their efforts to divert traffic away from a disabled vehicle in the middle of a busy interstate.
TCA explains:
It was just after noon on Sept. 19, 2019, and Fitzgerald and Lyons were traveling through Michigan on Interstate 75 with a set of airplane wings destined for Toronto. Lyons was carrying one wing and Fitzgerald followed with the second. They were accompanied by four pilot vehicles.
The first pilot vehicle was a quarter-mile ahead of the team. As he came over a slight hill, he radioed the team that there was a two-vehicle accident ahead. A small car was stopped in the middle lane and a box truck was pulled over to the right shoulder. The pilot driver instructed the team to move to the left lane and shoulder. As the pilot driver slowed and went around the accident he noticed the driver was still in the vehicle and no one was stopping to help.
Lyons and Fitzgerald decided they should stop. The team would later learn that the accident had happened less than a minute before they arrived. The small car had rear-ended the box truck.
"Traffic had not even begun to slow down around the wreck," said Fitzgerald. "We pulled to the left shoulder, short of the accident scene."
"People were flying by," said Lyons. "There was debris all over the road and because of the location, it was a bigger accident just waiting to happen. Kyle's two pilot drivers turned on their overhead directional lights to move traffic around the accident and then helped direct traffic," said Lyons. "My two pilot drivers and I went to check on the drivers as Kyle called 911."
Within minutes, the ambulance and fire department were on scene. When the state patrol officers arrived they shut down the highway long enough for the team to safely leave the scene.
Both men credit their pilot teams for the way they handled the situation: Veronica Nutt and Steve Sanders with T&H Pilot Car Services of Verden, Oklahoma; Larry Morris with S.J. Pilot Car Service of West Memphis, Arkansas; and Mike Froncisz with Veteran Pilot Services Ltd. of Ontario, Canada.
For their willingness to assist their fellow drivers, TCA has presented Fitzgerald and Lyons with a certificate, patch, lapel pin, and truck decals. Their employer has also received a certificate acknowledging their drivers as Highway Angels.
Since the program's inception in August 1997, more than 1,250 professional truck drivers have been recognized as Highway Angels for the exemplary kindness, courtesy, and courage they have displayed while on the job.
EpicVue sponsors TCA's Highway Angel program.