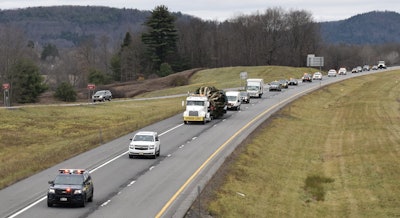 Members from New York State Police Troop C assisted with traffic control on State Highway 23 in West Oneonta, New York for the cutting of the Rockefeller Center's Christmas tree. A large escort assisted the tree down Interstate 88 including the Otsego County Sheriff's Department and Delaware County Sheriff's Department. The tree is destined for Rockefeller Center in New York City.
The 75-foot-tall, 11-ton Norway spruce was cut today and hoisted onto a 115-foot-long flatbed trailer before starting its trip to the Big Apple.
Because of the COVID-19 coronavirus, it is unclear when the tree lighting ceremony will occur and what sort of public involvement will be allowed.