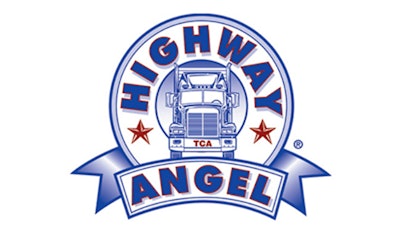 An Illinois truck driver was honored a second time for his highway heroics.
William "Bill" McNamee, from Christopher, Illinois, was named a Highway Angel by the Truckload Carriers Association for stopping to help a seriously injured girl after her family's vehicle was involved in a head-on collision.
TCA explains:
McNamee was traveling east on Interstate 44 near Marshfield, Missouri just before 5 p.m. on Sept. 10 when he noticed traffic was slowing up ahead. An eastbound SUV had driven off the road, broken through the cable barriers in the median, and entered the westbound lanes where it crashed head-on into another vehicle. Other drivers had already stopped to help. Without hesitation, McNamee pulled over and rushed to the scene.
"Someone was getting a toddler in a car seat out of the backseat and two people were pulling a uniformed officer out of the driver's seat," McNamee said. Someone had laid a little girl on top of the collapsed cable barrier on the grass, but no one was tending to her, McNamee remembered. He ran over to the girl, who appeared to be around 7 years old, and began assessing her injuries. McNamee, a first responder with his local fire department, shared that she was severely wounded.
"She was unresponsive and was having trouble breathing." Someone handed him a small Army medic kit. He opened the girl's shirt revealing chest injuries too massive to perform CPR. "I was praying for her," he said. "I was telling her to keep breathing." Another person was with the girl's father, an off-duty sheriff's deputy, whom he later learned had been gravely injured. "He was calling out to his daughter that 'Daddy's here … everything's gonna be okay.' I kept telling her she was going to be okay, that help was coming, and to listen for the sirens." Meanwhile, a nurse stopped to help. "She stabilized the girl's neck and we got her ready for emergency transport," McNamee said.
McNamee is uncertain what happened to the other driver. "He just stayed in his vehicle," he noted. "Apparently he was traveling across the country." He passed a breathalyzer and chemical test. He also was transported to the hospital. McNamee learned the off-duty deputy, just 26 years old, who had also sustained massive chest trauma, didn't survive. He adds that the family was extricated from the car because those first on the scene saw smoke and were worried about a fire. However, it was dust from the airbags. "They were everyday citizens (trying to do the right thing)."
He says he's proud of the four other truck drivers and the nurse who stopped to help the family. "I don't know who they were, but trucking still has some knights of the road." The young girl was flown to a children's hospital with several serious injuries requiring surgery. He learned she is home now and has begun attending school. The little boy sustained minor injuries.
This is the second time McNamee has been named a Highway Angel.
TCA also named Ken Lukomski, a driver with Veriha Trucking, Inc, a Highway Angel for stopping at the scene. Ken helped to extract the little girl from the vehicle and laid her down in the median and performed CPR on her until she started to breathe again. He also helped to extract the toddler, a young boy, from his car seat. Lastly, Lukomski assisted McNamee to extract the driver who succumbed to his injuries.
TCA has presented McNamee with a certificate, patch, lapel pin, and truck decals. His employer has also received a certificate acknowledging their driver as a Highway Angel.
Since the program's inception in August 1997, nearly 1,300 professional truck drivers have been recognized as Highway Angels for the exemplary kindness, courtesy, and courage they have displayed while on the job.
The program is made possible by Presenting Sponsor, EpicVue, and Supporting Sponsor, DriverFacts.