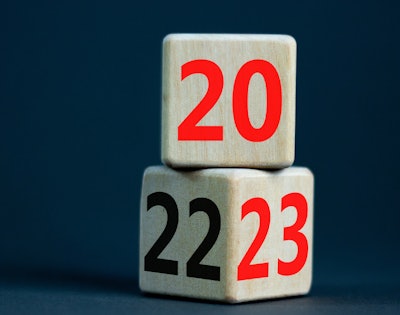 For the most part, truckers said 2022 was a decent year for them, but they have truly mixed feelings about what's ahead in 2023.
Over half of the drivers responding to a Truckers News online poll said they had and "good" or "excellent" driving year in 2022.
However, the response to what they expect 2023 to deliver was much cooler, and almost evenly split.
We asked: "How was your driving life in 2022?"
And here's how truckers responded:
38.6% said it was "Good"
29.9% said it was "Fair"
17.5% said it was "Poor"
13.9% said it was "Excellent"
We also wanted to know about your outlook for the new year ahead.
We asked: "What are your expectations for driving in 2023?"
And, truckers' responses were:
27.6% said, "About the same as 2022."
22.2% said, "Somewhat better than 2022."
21.3% said, "Much better than 2022"
20.7% said, "Worse than 2022"
8.4% said, "I won't be driving in 2023"
Throughout the year we asked Truckers News readers a number of questions covering an array of topics. Here are a few of the more notable questions and how truckers responded.
"How do you feel about "old school" trucking?"
15.5% said progress is nice
"Do you carry a firearm in your truck when you're on the road?"
"Will you leave the industry if the speed limiters become mandatory?"
16.3% said "No, I already have one activated on my truck."
10.9% said "No, I'll just deal with it."
"Do you expect driver pay to keep going up this year?"
"Do you get a holiday gift from your carrier?"
"How do you feel about Tesla?"
12% said they were a big fan
"Have you ever left orientation at one company for another job?"
"What's the best terminal perk?
24.9% said clean bathrooms
"As a driver, what do you see as the ideal future for your career?"
44.4% said "I don't see a future in trucking
14% said becoming an owner-operator
6.7% said becoming a driver/fleet manager
2.5% said becoming a recruiter
"How do you define GOOD home time?"
22.9% said Every couple of weeks works for me
8% said every couple of days
"Given the current state of the economy, what's the smartest thing to do for your trucking career?"
33% said leave trucking entirely
7.4% said get to a larger carrier
5.4% said got to a smaller carrier
"Do you feel safe sleeping in your truck?"
53.6% said most of the time