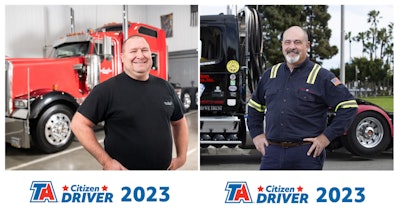 TA
A company driver from Illinois and an owner-operator from Pennsylvania are the winners of this year's Citizen Driver Awards given by TravelCenters of America.
TA announced its tenth annual Citizen Driver Award honorees at the Mid-America Trucking Show, Friday March 31. They are Lamar Buckwalter of Leola, Pennsylvania and William McNamee of Christopher, Illinois.
The award recognizes professional drivers who demonstrate traits that bring a high level of respect to the truck driving profession, including good citizenship, safety, health and wellness, community involvement, and leadership.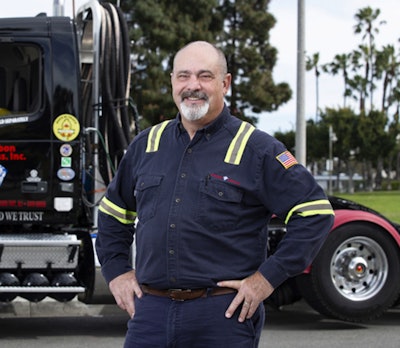 As part of the honor, Citizen Driver Award winners may select a TA, Petro Stopping Center, or TA Express location to be dedicated in their name, allowing their story to be continuously displayed for all travelers that pass through. TA also makes a $2,500 donation to each winner's organization of choice.
McNamee has over 32 years of driving and has dedicated his career to educating children and members of the public about trucking safety. He's been an active member of Trucker Buddy International for 25 years and served on the Board of Directors.
He has served on the Carbon Express Safety Committee and received numerous safety awards and recognitions, including his selection to the 2019-2020 America's Road Team. McNamee has amassed almost 3.2 million accident-free miles.
A Marine veteran, McNamee became a finalist in the NTTC driver of the year program and took second place in the Illinois Truck Driving Championship. He's also a volunteer firefighter, Licensed Medical First Responder, and vessel examiner for the Coast Guard Auxiliary. McNamee is a member of No Volunteer Dies Alone and Truckers Against Trafficking, volunteers at VA hospitals, and advocates for positive change throughout the industry.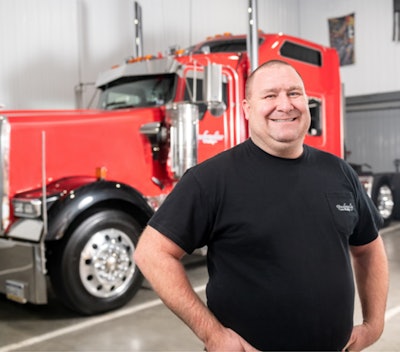 Buckwalter started going out on the road with his dad at the early age of 13 months old. Now, he has 26 years of professional driving and over 4 million accident-free miles under his belt. Starting out as a Jr. Firefighter, Buckwalter also became a Lieutenant, Captain, and Deputy Chief. He's been an EMT for the last 21 years and a Rescue Technician for 28 years. Most recently, he obtained his Water Rescue Technician and Fire Instructor qualification.
During the 9/11 tragedy, Buckwalter joined the Pennsylvania Rescue Task Force Team and spent two weeks providing assistance at Ground Zero. In 2003, Buckwalter was awarded Trauma of the Year for saving a woman who was trapped in her car after an accident. And in December 2022, he received a Clinical Save Commendation for saving a man who was in active cardiac arrest.
For the last 5 years, Buckwalter sponsored a local Make-A-Wish program for their Mother's Day truck convoy. He was a Road Pro Family of Brands ProDriver, and recently got involved with Four Coles Kids, helping children with special needs. As a sponsor and participant in a local school's All Pro Dads program, he helped to provide once-a-month breakfasts and fellowship time between kids and their fathers.
"This year's winners dedicated their lives to both their careers and serving others," said Barry Richards, president of TA. "I am truly humbled for the opportunity to acknowledge the heroic actions of these great citizens and thank them for their service to our country."
Over 150 nominations for the award were received this year, from fleet owners and executives, professional drivers, trucking organization members, and trucking industry suppliers.
Serving as this year's judges were:
Donna Kennedy, Director, St. Christopher Truckers Relief Fund
Dave Nemo, On-Air Host, Road Dog Media/Dave Nemo Entertainment
Todd Spencer, President, Owner-Operator Independent Driver Association
Ellen Voie, President & CEO of Women in Trucking
TA launched the program in 2013 with the intention of recognizing the professional drivers who keep America moving. To date, 41 Citizen Drivers have been awarded with this prestigious honor.