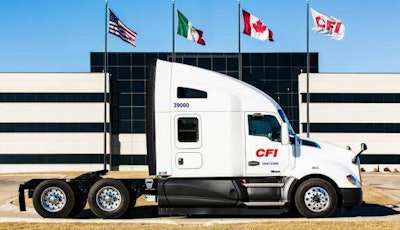 Joplin, Missouri-based truckload carrier CFI announced its Drivers of the Month for April recently.
Those drivers include:
Tucson, Arizona native Gregg Rabe started his career in 2000 and joined CFI in 2013. Gregg, who was CFI's Company Driver of the Month said he enjoys working independently and the freedom of the road.
Marcia and Jeffrey Malisiak, of Plain City, Ohio, were named CFI's Company Team of the Month. He has been driving professionally since 1991, and Marcia joined him on the road in 2014. Together they started at CFI in 2016. They said they enjoy traveling the country together.
CFI named Orlando, Florida native, Stephen Rodriguez, as Contractor Driver of the Month. Rodriguez started with CFI as an independent contractor in 2015, but his professional driving career began in 1984 after learning to drive a truck while serving in the Army.
Arthur and Cynthia George, of Medway, Ohio, were selected as CFI's Contractor Team of the Month. Art joined CFI in 2000 and Cynthia joined him on the road when their children were grown. They have collectively driven over 3.7 million miles.
CFI named Houston native, André Greene as Regional Driver of the Month. Greene started driving professionally in 2010 and joined CFI in June of 2013. His favorite aspect of his career is visiting different places and widening his perspective on the country.
Award recipients are selected based on dedication to safety, professional service and exemplary performance. CFI recognized the drivers during an awards ceremony held recently at its headquarters in Joplin.
"Our drivers work tirelessly to ensure our customers receive their deliveries on time and with exceptional service," said Tim Staroba, president of CFI. "Our April Drivers of the Month set the example of professionalism and excellence that allows our company to thrive and it gives me great pride to recognize each one of them."
CFI has a fleet of 2,400 company tractors and 7,000 trailers in addition to an independent contractor fleet.