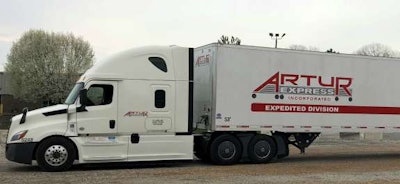 St. Louis-based Artur Express announced an average pay increase of 8 cents per mile for its company drivers.
According to a statement from the company, this increase brings the company driver average up to about 60 cents per mile. Artur also increased stop pay to $50, and increased detention and layover pay as well.
Also contractors have recently received an increase of 25-30 percent, according to the company, which added that contractors at receive 86 percent of gross revenue.
"We know that the truckers are the reason we are in business. They are on the road 24/7 and we are doing what we can to make sure to pay them well so they can focus on being safe on America's highways and getting back home to their families and not on how to pay their bills every week," said Artur President Tom Tokarczyk.
Founded in 1998, Artur Express, Inc. is a full-service, nationwide transportation and logistics company with terminals in California, Pennsylvania, and Florida.