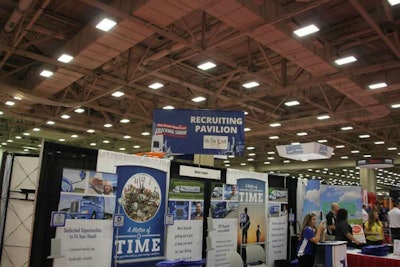 The Great American Trucking Show will bring over 50 fleets to its Recruiting Pavilion to discuss employment opportunities, training programs, and more. Drivers will have the opportunity to speak with fleet representatives and ask any questions they may have.
GATS is Aug. 23-25 at the Kay Bailey Hutchison Convention Center in downtown Dallas. Online registration for the show is free.
More information on the fleets coming to the Recruiting Pavilion, such as their freight types and haul length opportunities, can be found on the GATS website.
The following fleets will be at GATS' Recruiting Pavilion:
Autobahn Freight Lines, Booth No. 2740
Averitt Express, Booth No. 2940
Blair Logistics, Booth No. 3221
Blaze Logistics, Booth No. 2738
Caroling Logistics, Inc., Booth No. 2826
Central Freight Lines, Booth No. 2421
CFI, Booth No. 2727
Clark Transfer, Booth No. 2927
C.L. Services Transport LLC, Booth No. 3216
Coal City Cob Company, Inc., Booth No. 2622
Crete Carrier, Booth No. 3132
CRST Malone, Booth No. 4411
Domino's Supply Chain, Booth No. 2925
Dot Transportation, Inc., Booth No. 2938
Epes Transport System, Inc., Booth No. 3240
Exchange, Booth No. 3238
FedEx Custom Critical, Booth No. 2733
F&M Transportation, Booth No. 3109
Freight Exchange, Booth No. 3138
Greatwide Truckload Management, Booth No. 3318
Hearn Trucking, Booth No. 2739
Heniff Transportation, Booth No. 2633
Hirschbach Motor Lines, Booth No. 3319
Jetco and Jetco DFW Delivery, Booth No. 741
Koch Trucking, Booth No. 3225
Labatt Food Service, Booth No. 3140
Landstar, Booth No. 3124
Lipsey Trucking LLC, Booth No. 2920
Load One LLC, Booth No. 2625
Marten Transport, Ltd., Booth No. 3233
Mercer Transportation, Booth No. 2433
M. Lipsitz & Co., Ltd., Booth No. 2941
Ozark Motor Lines, Inc., Booth No. 2741
Pam Transport, Booth No. 3220
Panther Premium Logistics, Booth No. 2921
Parkway Transport, Inc., Booth No. 2521
Poly Trucking, Booth No. 2725
Powersource Transportation, Inc., Booth No. 3025
Product & Logistics Services, Booth No. 3545
Quality, Booth No. 2626
Red Classic, Booth No. 2920
Rich Logistics, Booth No. 2826
Roadrunner Transportation Systems, Booth No. 2838
Roehl Transport, Inc., Booth No. 31045
Saia LTL, Booth No. 23043
Sherwin-Williams Private Fleet, Booth No. 3041
Southwestern Nevada, Booth No. 3121
Stevens Tanker Division LLC, Booth No. 3224
Summit Trucking, Booth No. 22021
Sun Coast Resources, Inc., Booth No. 2820
Suntecktts, Booth No. 2538
Trailer Transit, Booth No. 2726
Tri-Star Freight System, Booth No. 2527
Tri-State, Booth No. 3026
Unimark, Booth No. 3438
United Petroleum Transports, Booth No. 2823
Universal, Booth No. 2721
Unlimited Carrier, Booth No. 2720
UPS Freight, Booth No. 3023
Valley Transportation Service, Inc., Booth No. 3239
Werner Enterprises, Booth No. 2933
West Motor Freight, Booth No. 3320