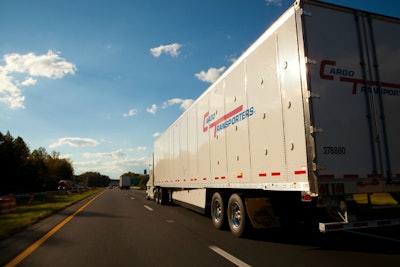 North Carolina-based Cargo Transporters, Inc. increases pay for all over-the-road and regional fleet drivers effective March 31.
Pay for the company's solo, over-the-road drivers will increase 2 cents per mile on all dispatched miles. Team and regional drivers pay will increase 1 cent per mile on all dispatched miles.
Drivers with Cargo Transporters calculates drive pay based on practical route miles, instead of industry standard, household goods shortest miles. The company said practical route miles are on average 8 percent higher.
"Cargo is a leader in safety and service, which is a direct reflection of our drivers and staff," said Dennis Dellinger, president. "We have always had a tradition of providing great careers, benefits and the safest equipment to our drivers. The increase is an ongoing commitment to our drivers and their families."
Cargo Transporters is a truckload carrier operating 525 trucks serving the continental U.S. The company operates terminals in Claremont, Charlotte, and Rocky Mount. The company employs over 700 people.