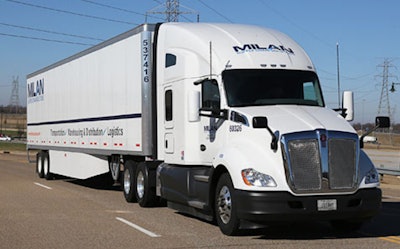 Tennessee-based Milan Supply Chain Solutions, Inc. announced a pay increase for its regional over-the-road and local drivers and independent contractors.
Effective April 7, an experienced company driver will be paid from 44 to 56 cents per mile, resulting in annual earnings of from $66,560 to $82,160 based on 2,500 miles per week. Company teams will make from 55.4 to 58.4 cents per mile for annual earnings of from $153,400 to $161,200 for 5,000 miles per week.
In addition to the base pay per mile pay, Milan offers up to 4 cents per mile in incentive bonus for safety, fuel efficiency and productivity attainment.
Milan also increased pay for independent contractors, both owner-operators, and lease purchase. Owner-operators now make $1.12 per mile with FSC on loaded miles, for annual gross earnings of $184,600 for 2,500 miles per week. Lease purchase operators make $1.09 per mile with FSC on loaded miles for 2,500 miles per week, grossing $180,700.
Independent contractors are also eligible for 2 cents per mile productivity incentive pay as well as a safety bonus.
Located in Milan, Tennessee, the company provides regional transportation services in the southeast and mid-states area. It operates more than 500 trucks and about 1,500 trailers and provides truckload, dedicated, brokerage and warehousing, and distribution services.