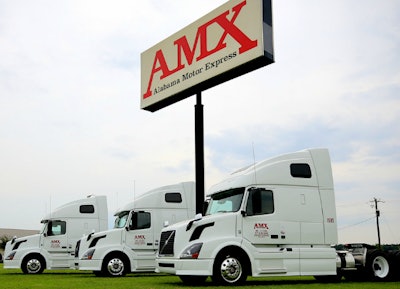 Alabama Motor Express, a 210-truck fleet out of Ashford, Alabama, announced recently it's acquiring the assets of Powell Transportation Solutions and its affiliates, a trucking firm specializing in refrigerated freight. Powell is located in Midland City, Alabama.
The transaction adds 35 reefer trailers to the AMX fleet, according to a statement from the company.
Terms of the deal were not disclosed.
"We're on a clear path forward," said Taylor White, vice president of AMX. "This acquisition is an exciting step as we bolster our position as a leading full-service, logistics provider in the region."
AMX says Paul Powell, president of Powell, will serve as leader of AMX's refrigerated services division. AMX also said all Powell employees and drivers are expected to retain their positions with AMX.
A Closer Look at Alabama Motor Express
What lanes they run: Primarily Northeast and Midwest
What sort of freight they carry: AMX now hauls both dry and refrigerated freight. This acquisition now allows AMX to carry more fresh and frozen food products.
What kind of equipment they have: Both companies' combined currently operate 2017 and 2019 newer Volvos and Freightliners, with an average age of 2 years. All reefer are Utility trailers and Thermo King Reefer units.
How many drivers, how many trucks and trailers does the company have? Powell brings 21 drivers and 35 trailers, adding to AMX's 250 tractors and 600 trailers.
General range of pay for drivers and student drivers: Both our driver pay and student driver pay are very competitive with the current market.
Benefits, home time, etc.: Drivers are a priority and our greatest asset. We offer a healthy balance of flexible over-the-road miles and much-needed time-at-home breaks – our drivers are usually home every weekend. We offer the best, most advanced truck technology and equipment to keep our drivers safe on the road. We also offer lucrative bonuses for our drivers who pass safety checks.
Search thousands of trucking jobs to find the job you want.
Find Your Next Job Today