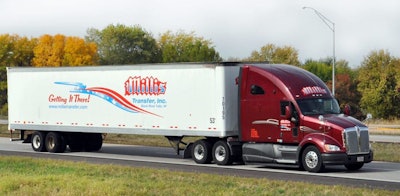 Millis Transfer, an 85-year-old dry-van fleet based in Black River Falls, Wisconsin, announced a pay increase of 5 cents per mile for new as well as existing drivers.
The new raise comes in the form of an additional 2 cents per mile added to base pay and an additional 3 cents per mile toward the weekly mileage performance bonus. A statement from the company said the raise is based on several factors and "strengthens its role as a leader in driver pay as well as overall driver package."
"The goal of this pay increase is to reward our drivers for their longevity with Millis and pay for their performance," Dave Millis, president of Millis Transfer, said. "Couple this with our well-maintained equipment, robust health benefits, and family-oriented work culture, and Millis Transfer is a clear and obvious leader when it comes to long-term driver opportunities. This not only benefits the driver, but his or her family, the customers we service and our overall economy."
A pay raise has also been added for Millis Training Institute trainees. The company said in a statement MTI trainees can expect to earn .44 per mile when on the road with their driver trainer. They will then receive an additional one cent every quarter during their first year of employment.
"We are the only company that offers a rate that high for trainees or first-year drivers," Millis said. "Along with great training pay, the Millis Training Institute also offers a well-accredited program with five school locations and one-on-one attention."
The company also offer other incentives such as 401k program with company match up to 30%, healthcare through United Health Care and MetLife and paid vacation and holidays. Millis drivers also receive a pay raise every year.
Millis Transfer operates 700+ trucks primarily east of the Mississippi River.