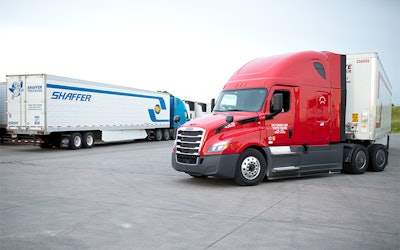 Some drivers for two major carriers will be getting a raise at the end of this month.
Owner-operators with Crete Carrier and Shaffer Trucking will receive a 5 cents per mile pay increase on May 31. Crete Carrier Corporation President and COO Tim Aschoff said the decision to raise pay comes as circumstances are changing for many owner-operators.
"We know it's been challenging out there as an owner-operator," said Aschoff. "Your costs are going up and you deserve this rate increase."
Owner-operators for Crete Carrier and Shaffer Trucking haul contracted freight for what the company said are stable, well-known customers, protecting them from the impact of falling rates for freight on the spot market.
"Some owner-operators at other companies were maybe living off that spot market," said Aschoff. "But we're consistent here. We provide good quality freight and a good quality pay rate."
Director of Driver Development Issac Phillips oversees the owner-operator program. He said the company's fuel program also reduces the impact rising fuel prices have on Crete Carrier and Shaffer Trucking owner-operators.
"We always pride ourselves on our fuel program passing through fuel surcharge and discounts," said Phillips. "If you're at 6.8 miles per gallon or better, and you're following our fuel solutions, we can keep your cost at or below $0.75 a gallon."
Crete Carrier and Shaffer Trucking are also extending surge pay, and higher safety and productivity bonuses through Sept. 30.
Search thousands of trucking jobs to find the job you want.
Find Your Next Job Today