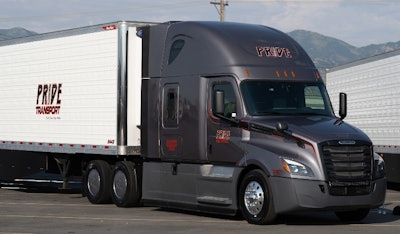 Salt Lake City-based refrigerated carrier Pride Transport is increasing pay for its drivers saying it "acknowledges the important role that drivers play in keeping the economy and homes running, and Pride is committed to compensating their drivers for their dedicated service."
The new pay range for solo over-the-road drivers at Pride Transport is now 57 cents per mile to 75 cents per mile. A $10,000 sign-on bonus is paid at a rate of $100 per week during the first two years of employment.
With this pay increase, Pride Transport said it anticipates that its average driver salary will be $81,000 annually.
"Our drivers truly are what makes Pride Transport special. Not only are they the backbone of our company, but our country" said Pride Transport President Jay England, son of company founder Jeff England. "That's why we are thrilled to announce this fleet-wide pay increase. The increased CPM combined with a 20% 401k match, productivity, and fuel incentive, and a $10,000 sign-on bonus will ensure that truck drivers who 'Drive with Pride' get the high-paying careers that they deserve."
Founded in 1979, Pride Transport offers OTR, dedicated, and regional jobs for both solo and team truck drivers.
Search thousands of trucking jobs to find the job you want.
Find Your Next Job Today