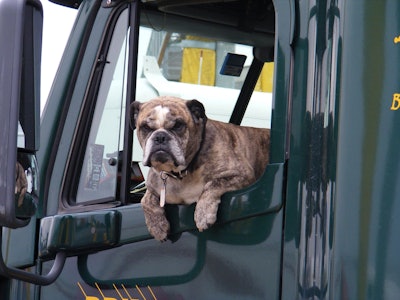 Many professional drivers enjoy sharing their truck with a dog. Not only do they provide good company, but studies show they provide health benefits.
Commercial Truck Trader, an online marketplace for used trucks, recently compiled a list of pet-friendly truck stops and travel centers. That list includes:
Love's Travel Stops
In 2019, Love's began adding dog parks to its locations to accommodate truckers with canine companions. These dog parks are 50×100 feet and include air-locked gates to keep pets safe. There are also pet waste stations, a bench for drivers to unwind, and an off-leash area for pets to explore. There are currently more than 350 Love's locations with dog parks.
TravelCenters of America
TravelCenters of America, along with the company's other brand Petro Shopping Centers, offers dedicated areas for pets at hundreds of locations across the country. Inside TA, Petro, and TA Express locations, you can find a variety of pet-care products to treat your furry friend to.
Iowa 80 TA
While all TA locations have a designated pet area, the location in Walcott, Iowa has more to offer. The Iowa 80 TA features an on-site "dogomat" where you can give your travel companion a bath in the pet wash that's open 24 hours a day.
White's Travel Center
Part of the Petro Shopping Center brand, White's Travel Center is located in Raphine, Virginia. Commercial drivers traveling with a pet through this part of the Shenandoah Valley can take advantage of the grassy pet area and state-of-the-art pet wash.
49er Travel Plaza
Located in Sacramento, California, the 49er offers a dog walking area and pet wash.
Big Apple Travel Center
Despite the name, Big Apple Travel Center is actually located in Joplin, Missouri. In collaboration with Phillips 66, Big Apple has increased its traveler amenities, including an on-site dog park.
Jubitz Travel Center
Jubitz Travel Center in Portland, Oregon features a self-serve dog wash, equipped with shampoo, conditioner, and a blow dryer to keep your pet looking good.