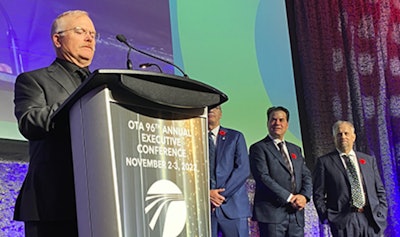 Ontario Trucking Association
The Ontario (Canada) Trucking Association recently honored two drivers, including one posthumously.
Don Dunbar was named the 2022 OTA-Volvo Trucks Canada Truck Driver of the Year at the OTA's annual convention. The Tandet Group driver is a 40-year veteran of the road, with nearly 3 million kilometers under his belt and no preventable collisions.
The OTA also honored Ashish Patel, a driver for Bison Transport, who was killed in July of 2021 as he helped rescue occupants involved in a serious collision on I-81 in West Virginia. His wife Shilpa Patel accepted the Ontario Trucking Association-Bridgestone Truck Hero Award.
Another trucker, Adam Miller of Hagerstown, Maryland also died at the crash scene.
Dunbar worked in the oil industry before becoming a professional trucker. He served as an OTA Road Knight in 2015.