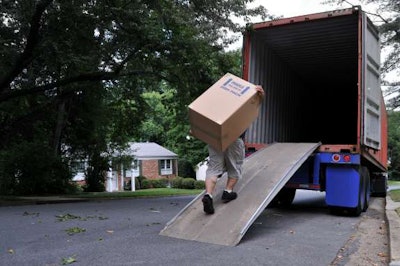 A trade group representing household goods movers has asked the Federal Motor Carrier Safety Administration to exempt its members of the 14-hour cap placed on drivers dailyhours-of-service limits.
The American Moving & Storage Association has asked the agency to allow drivers for its 3,700 member companies to drive at most another 75 miles or 90 minutes beyond the 14th hour to leave residential areas after deliveries and drive "to the nearest place offering safety and security."
The agency is accepting public comment on the request until Oct. 9. Click here to leave a comment on AMSA's petition.
AMSA says that household good movers, when facing delays, can be stuck on residential streets when their clocks run out, creating safety concerns for drivers, security problems for their cargo and hazards on local streets.
Drivers would still be required to be off duty for a full 10 hours before returning to work, AMSA says, and drivers would have to notify their carriers each time an extension is used.
Household goods movers are unique, AMSA contends, in that its drivers work in private homes and that loads are not palletized, making loading and unloading more time-consuming. Customer needs also dictate that loading and unloading start between 8 and 9 a.m., AMSA says, but times can be shifted, causing delays for drivers.
"The list of potential unforeseen, impossible-to-plan-for situations that can cause delay is nearly endless," AMSA says in its petition. "When rare, unusual and unforeseen circumstances arise, the 14-hour rule forces drivers nearing the end of their 14-hour shifts to choose one of two impractical alternatives."
Those alternatives either are stopping a moving crew from finishing loading or unloading the shipment or to finish and leave the truck parked on an unsecured residential street for 10 hours.