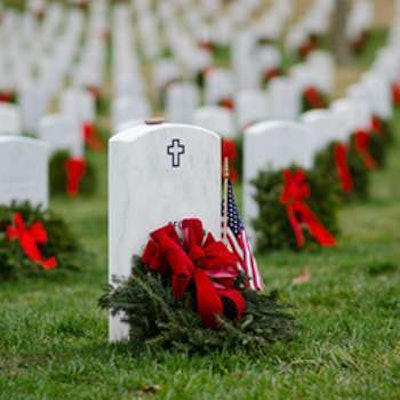 Now it's easier and more economical for drivers and others in the trucking industry to be part of a national program to help honor this country's military veterans.
Over the years, the trucking industry, led by the Truckload Carriers Association (TCA), has supported Wreaths Across America (WAA), the non-profit organization that places wreaths on the graves of veterans in Arlington National Cemetery and nearly 1,000 other cemeteries across the country.
This year, the TCA has devised more efficient and economical ways for folks to participate in the event that culminates with National Wreaths Across America Day Saturday, Dec. 13. On that day volunteers will place fresh wreaths on the graves of those who served — and often gave their lives for — this country.
Getting the wreaths to the cemeteries is no small task. Planning the many deliveries was done manually in the past, but this year the TCA, with the help of Tennant Truck Lines, Inc., of Colona, Ill. technology is being used to make the task easier.
The TCA says load histories from the last three years have been analyzed, resulting in a projection of the most economical and efficient routes available. Carriers can now use the Truckload of Respect website to choose routes that make the best business sense for them. They can sort by origination point, state, number of stops, and can even select a particular local cemetery. Although TCA may have to make final adjustments to the routes, at least carriers will have a general idea of the dates, times, routes, and resources that will be needed.
"After scrambling to patch loads together, it was time to take it up a notch and apply solid trucking logic to this endeavor," said Aaron Tennant, company president and TCA's at-large officer. "I remember when Barry Pottle, a past TCA chairman, first told us about how he was hauling wreaths for WAA. Although he personally did not serve his country, he said this was his way of giving back to those who did. We pretty much all feel that way now. So tightening up the way we coordinate the loads is just another way we can improve something we strongly believe in."
A second new feature of the Truckload of Respect website is the ability to sponsor a load. For example, if carriers do not have the resources to haul wreaths themselves, they can sponsor the fuel cost for an owner-operator to do it.
Finally, the website can be used to purchase wreaths. Because of the special 150th anniversary of ANC, TCA's goal is to help WAA raise enough money to sponsor 230,000 wreaths – close to 87,000 more than last year – which would cover every grave marker at the Cemetery.
Individuals and companies are asked to sponsor one wreath for $15, or a box of eight wreaths for $120. In addition, for $40 (includes shipping and handling), professional truck drivers can purchase a "Trucking Patriot Pair" – one wreath to attach on the grill of their truck and a corresponding wreath to be laid at Arlington on National Wreaths Across America Day – and join the rolling tribute of drivers honoring veterans.
In the week leading up to National Wreaths Across America Day trucks will haul the majority of the wreaths from Harrington, Me., to Arlington, Va., via the "world's largest veterans' parade." This convoy of 18-wheelers drives down the East Coast for a week prior to the event, stopping at schools, monuments, veterans' homes, and communities for rallies and educational events along the way.
To make or select a delivery route, sponsor a load, or donate a wreath, please visit www.TruckloadofRespect.com. You can also stay informed about TCA's involvement in National Wreaths Across America Day by following us on Twitter – www.truckload.org/Twitter — and Facebook — www.truckload.org/Facebook — and by using the hashtag #121314SayIDid.