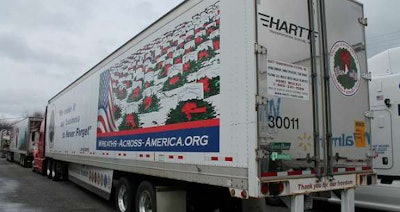 Wreaths Across America 2014 is history, and what an impressive chapter was written.
An increased commitment by the trucking industry helped the organization meet its ambitious goal of placing a remembrance wreath on every veteran's grave in Arlington National Cemetery.
On Dec. 13, 50,000 volunteers placed wreaths on all 230,000 graves at Arlington, which observed its 150th anniversary this year.
The Truckload Carriers Association (TCA) stepped up its efforts on behalf of Wreaths Across America this year. As part of its efforts, TCA worked with Tennant Truck Lines, Inc. of Colona, Ill. to create a website to help companies volunteer to deliver wreaths across the U.S.
In all, 238 truckloads — 700,000 wreaths — were shipped to 1,015 locations across the country to honor veterans.
In the process, this year's event made a deep impression on many of the folks involved.
Sherri Garner Brumbaugh was along for the trip from Worcester Wreath Co. in Harrington, Me. to Arlington this year. She said there were, "… many moving moments throughout the convoy but most remarkably the cost of freedom."
Garner Brumbaugh, president and CEO of the Garner Transportation Group said, "(I'm) also very proud of my industry, and how the trucking industry plays a role in teaching our children and our country that cost, and to always remember our military and their families that take up arms and run into the fray to protect those freedoms we have as Americans."
TCA Vice President Debbie Sparks says Garner Brumbaugh played a considerable roll in helping the wreaths project set a record this year.
"I think TCA's Image and Communications team under the leadership of Wendy Hamilton and Sherri Garner Brumbaugh need to be credited with the success," says Sparks.
Two ABF Freight System drivers participated in Wreaths Across America 2014.
"We have seen so many moving scenes on our trip," said Nate McCarty, a Share the Road professional driver with ABF Freight System. "I'm so honored and touched that I was able to be a part of such an important cause."
ABF driver Ralph Garcia also made the trip from Maine to Arlington and was equally moved.
"Stopping at schools and communities and landmarks, we spoke to so many people with so many incredible stories about their loved ones and about why they're so passionate about Wreaths Across America," Garcia said. "This was such a tremendous privilege and I'm thankful to all those who donated or volunteered to make this event possible."
The national media took notice of Wreaths Across America and trucking's role in its success. MSNBC covered the event and is re-broadcasting its coverage several times between now and Christmas.
Two ABF Freight Lines drivers talk Wreaths Across America