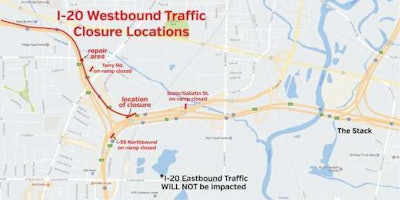 The westbound lanes of I-20 in Hinds County, Mississippi, will close Friday May 5 through Monday, May 8, to repair the bridge over Valley Street. The bridge was damaged by two trash fires set underneath the bridge.
The fires caused damage to the bridge deck concrete and the steel girders underneath the bridge span.
I-20 westbound on-ramps at State/Gallatin Street, Terry Road and I-55 northbound will also be closed. Raymond Road, which runs underneath the bridge, will be closed.
I-20 will close at the I-55 south split (Exit 44). Traffic that misses the detour will be diverted to I-55 southbound from 10 p.m. May 5 and will reopen 6 a.m. May 8.
If the work has to be delayed due to inclement weather, the alternate dates will be:
10 p.m. May 12 – 6 a.m. May 15
10 p.m. May 19 – 6 a.m. May 22