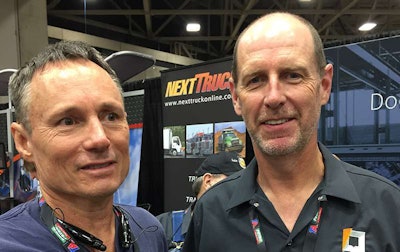 Dock411 helps drivers know what to expect when they deliver loads, providing information such as dock locations, yard entrances, restroom accessibility, wireless availability and availability of unloading equipment.
Drivers who download the app can add to Dock411's database by rating each location as "good, OK or bad" on attributes such as lighting, maneuverability, wait times, professionalism of staff and lumper practices.
"This is exactly what I've been saying we needed for 10 years," independent owner-operator Steve Heglmeier of Heglmeier Transportation Services in Saginaw, Texas, said during a demonstration at the Great American Trucking Show in Dallas. He mentioned a shipper he delivers to where the only road to the location is a no truck route.
He liked the idea of entering that information in the app to help other truckers. He gave another example of lumpers insisting on being paid in cash at some locations. If he knew that ahead of time he could be prepared, he said.
Dock411's short term goal is to target 10,000 driver users, said Eric Weidl, Dock411 co-founder. Truckers can download the Dock411 app, iOS or Android, or access the information at Dock411.com.